Vienna Focus Group comlpeted successfully
By: Valon Xoxa April 30, 2015
Virtual Registration of Diaspora initiative has successfully completed the discussion forum. Held at the premises of the Kosovar Embassy in Vienna, the event gathered representatives of the departments of Kosovo, specifically the Ministry of the Diaspora, representatives of various Albanian organizations in Austria and numerous members from the civil society. The forum once again highlighted the importance of meeting directly with citizens and exchange of information with related institutions.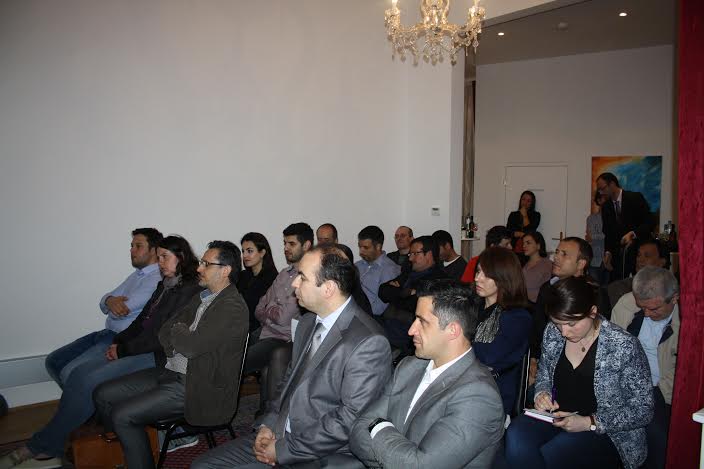 The discussion form brought together participants from Kosovo,Macedonia, Montenegro and Albania. A question and answer session with the  Secretary of the Ministry of Diaspora, Mentor Borovci, Director of Media Department of the Ministry of Diaspora Mr. Lorik Pustina and the Consul of Kosovo in Austria, Mr. Imer Ladrovci.
Among many question, a rather important one was raised by Mr. Abdullah Abdullahi from Prizren, who asked whether Albanians who have Austrian citizenship have the right to register and proposed that the registration process intensify during the summer months. Representatives of the Ministry of Diaspora explained that this registration will not cause legal trouble to anyone and does not create any legal complication with dual citizenship, thus it encourages diaspora community members of every legal standing to register.
Mr. Hamez Morina from the ESIKS organizations in Vienna is seeking to promote the Diaspora Registration by ease of access to public services or  reward based program. Another efficient method highlighted by Mr. Morina has been contacting members of the diaspora previously engaged in projects such as "Brain Gain".
The discussion form has been characterized also by numerous questions regarding Albanians from Montenegro, Macedonia and Albania.  Mr. Sabri Osmani from the city of Ulqin demanded that the registry is more inclusive, alongside Mr. Osmani, a number of people demanded that the Kosovar embassy contact the Macedonian and Montenegrin counterparts in order to expand the reach of the registry.