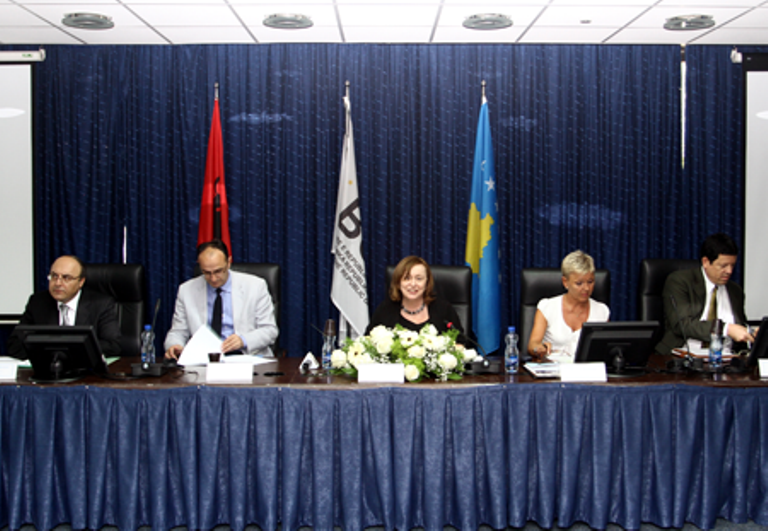 UNDP and IOM Launch a New Project on Diaspora Engagement for Development
By: Kosovo Diaspora July 20, 2012
The United Nations Development Programme (UNDP) and International Organization for Migration (IOM), in close cooperation with the Ministry of Diaspora announced the beginning of Diaspora Engagement for Economic Development (DEED) project on at the Auditorium of Central Bank of Kosovo. As migration continues to play an important role in Kosovo's development prospects, the need to explore the potential of engaging the Kosovo diaspora as full development actors remains high. This endeavor will enable Kosovars at home and abroad to create a better future for themselves and their families.
The DEED project will contribute towards increasing access and literacy of remittance-recipients and senders to financial services in order to promote accumulation of local savings and investment; increasing the level of investment and savings by Kosovar migrants and diaspora; and supporting evidence-based policies by Kosovo authorities related to migration and development. The project has been made possible with the generous funding of the Government of Finland and will be implemented jointly by UNDP and IOM.
The event was hosted by UN Decevlopemnt Coordiantor and UNDP Kosovo Resident Representative Osnat Lubrani, joined by Jorge Baca, Head of IOM Mission in Kosovo, her Excellency Anne Meskanen, Charge d'affaires of Finish Embassy in Pristina, Minister for Diaspora in Kosovo Government Ibrahim Makolli and Gazmend Luboteni, Chariman of the Central Bank of Kosovo Board. On the same occasion Kosovo Remittance Study 2012 was presented. "The results from the remittance study suggest that there was a 14% decline in remittance inflows to Kosovo in 2011 compared to 2010 – which is a significant decline and comes at a time when there are ongoing financial problems in the eurozone. Unsurprisingly, 25% of households in Kosovo depend on remittances for their livelihoods. However, this figure is even higher among households living in rural areas and those headed by women. Remittances continue to be a vital livelihood strategy: they represent the second largest source of income for many households", said Osnat Lubrani at the event, refering on Remitannce Study 2012.
Source: http://www.kosovo.undp.org/?cid=2,26,1177