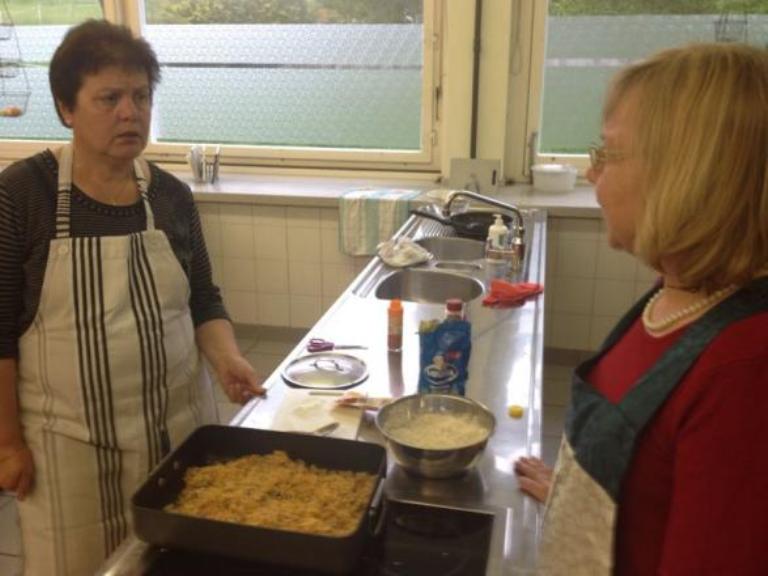 The Swiss learn about Kosovo's gastronomic culture
By: Valon Xoxa June 8, 2014
Lirije Mala from "Kulturpunkt" has been the proud host of a short course on Kosovo's gastronomic culture. A group of Swiss ladies from the "Frauenverein" organization have had the chance to learn and taste some of the products that Kosovo has to offer. 
Mrs. Mala and her visitors had prepared a range of tasty meals such as : garlic and sour yogurt soup, chicken and rice, cabbage salad, the usual tomato and pepper salad, onions and feta cheese. To truly excite the taste buds, Mrs. Mala had prepared the traditional feta cheese and spinach pie, a rare delicacy for the Swiss audience. The ladies, eager to learn the skill, have learned how to prepare the pie dough and separate it into measurable pieces.
The event was accompanied by a range of products offered in the Swiss market, products that originate from Kosova. Mrs. Malaj was happy to hear that many of the ladies were astonished and will try and make the pies and salads. All in all, the Swiss had the chance to learn more on the Kosovar cuisine and Albanian tradition.
The original article was posted at Albinfo.ch – Click here to read the original article.