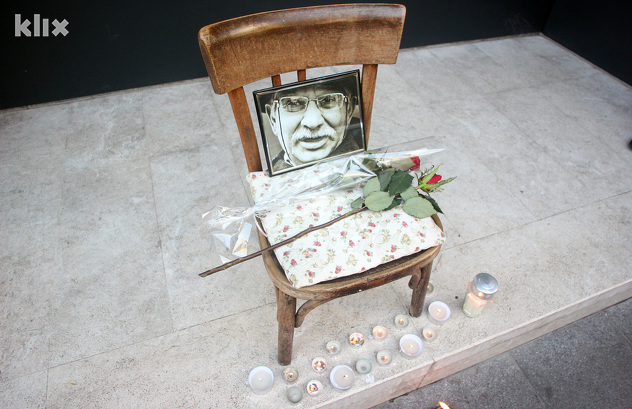 The Last of the "Shoe-shiners", Hysen Hasani to be Immortalized in the Streets of Sarajevo
By: Valon Xoxa January 20, 2014
Sarajevan's today bring flowers to the spot (Tito's street) where the city's last shoeshiner used to exercise his art. Hysen Hasani or better known as "Uncle Miso" left Ferizaj, Kosovo in 1946 together with his parents and today he is immortalized in the streets of Sarajevo for the work he has done. 
Hysen Hasani, had died of a heart attack at the age of 83, however to the people of Sarajevo, it seems that his presence will be ever lasting. There were a pair of shoes set ,as if waiting to be polished, in front of the chair, the spot where people paid their last tribute to the last shoe shiner. People placed flowers and lit candles, many of them stopped and said a prayer in his remembrance.
Born in Ferizaj, Hysen Hasani and his parents had arrived in Sarajevo in 1946, at that time a teenager, he had quickly inherited the skills and art of the profession from his father. People remember Mr. Hasani , known as Miso, as a gentle man, dedicated to his work. Even during the 90's war and siege of Sarajevo, Miso offered his service while carefully dodging flying bullets.
A petition has begun with a noble cause of raising a statue in remembrance of Miso. The petition had a quick jump-start of 5000 signatures on the first day!
The original article was posted at Klix.ba Click here to read the original article.