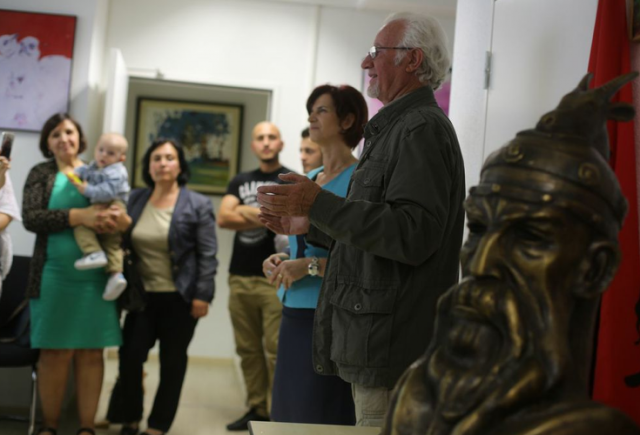 The exhibition which will bring Kosovo to Switzerland
By: Fitim Salihu July 7, 2014
The exhibition opened at the Cultural Centre of Kosovo in Zurich presented 25 different artists of different generations, among whom sculptors, photographers, poets and painters were present.
The exhibition opened on the 5th of July and represented a collective exhibition of Albanian artists from Kosovo and other Albanian territories. The curator of this exhibition was the well-known artist from Kosovo, Professor Jetullah Haliti.
There was a satisfactory interest during the first days with a lot of people visiting the exhibition. Besides other artists, there were journalists and writers as well. In the opening ceremony, the chairman of the Association of Albanian Figurative Artists in Switzerland, Nexhmedin Januzi, greeted the artists and congratulated them for this exhibition in Zurich.
In the end, there was a literary presentation where poets recited poems of the present authors which gave the exhibition an added coloration.
The artists who presented their works in this exhibition were: Agim Islamaj, Miradije Ramiqi, Musa Sadiku, Skender Lajqi, Rudina Proda, Nuri Jaupulari, Mehmet Baci, Lekë Rrotani, Idriz Balani, Olti Zejnullahu, Olti Haliti, Reshat Ahmeti, Jetullah Haliti, Hajrush Fazliu, Agim Ramadani and Shkelzen Gashi.
The poets who read their verses were: Sabit Gecaj, Ibrahim Avdyli, Bujar Salihu, Nexhat Maloku, Mimoza Erebara, Gani Qarri, Shukrie Ramadani and Adem Kicaj.
The original article was posted at Albinfo.ch – Click here to read the original article