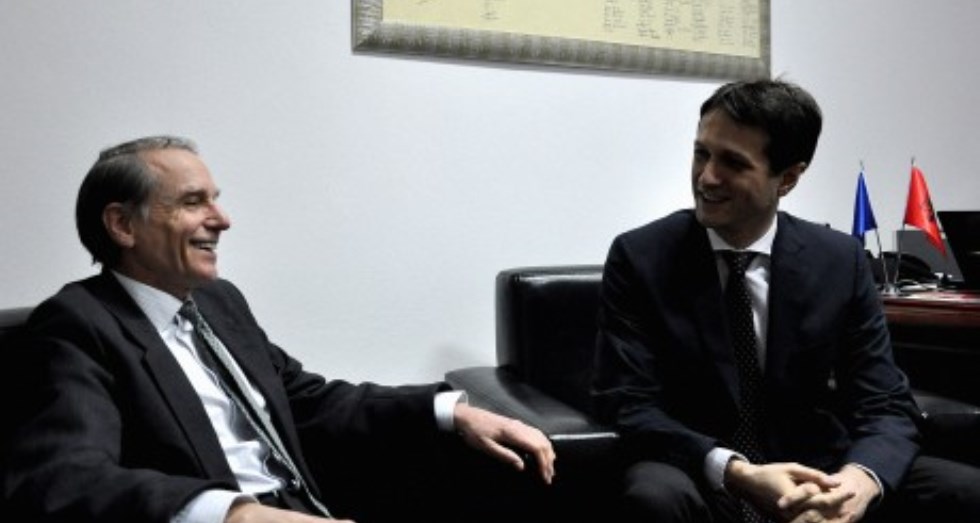 The British Embassy Set to Support Diaspora Projects
By: Valon Xoxa February 10, 2015
Kosovo's Minister of Diaspora, Mr. Valon Murati, hosted an introductory meeting with the UK's ambassador in Kosovo, Mr. Ian Cliff. During this meeting, the ambassador has been informed on the 2015 priorities and long-term objectives of the Ministry of Diaspora, specifically on projects dealing with Kosovo's Diaspora in the UK.
Minister Murati emphasized the importance of additional Albanian language classes for Diaspora and the goal of attracting foreign investments in Kosovo. He explained that these projects are a top priority for the MoD and they require a strong institutional cooperation between the two countries. "We are interested to benefit from the experience of the UK in the establishment of cultural centers (British Council) and take a similar approach with the cultural centers of the Republic of Kosovo" emphasized Minister Murati.
The British Ambassador, Mr. Ian Cliff, expressed the support of United Kingdom towards helping the Kosovo's Ministry of Diaspora in fulfilling its goals. "The UK is characterized by many cultural representations and various events from countries around the world. We are very flexible in this regard, therefore our support in advising the Kosovar counterparts will always be there," said Mr. Cliff. He added that the Albanian Diaspora in the UK is well integrated, especially in professional fields such as medicine, architecture and other professions.
The British Ambassador, Mr. Ian Cliff, concluded the meeting by expressing his gratitude and  the UK support on the realization of projects regarding Diaspora.
You can click here to read the original article published in Albanian in the official page of the Ministry of Diaspora.