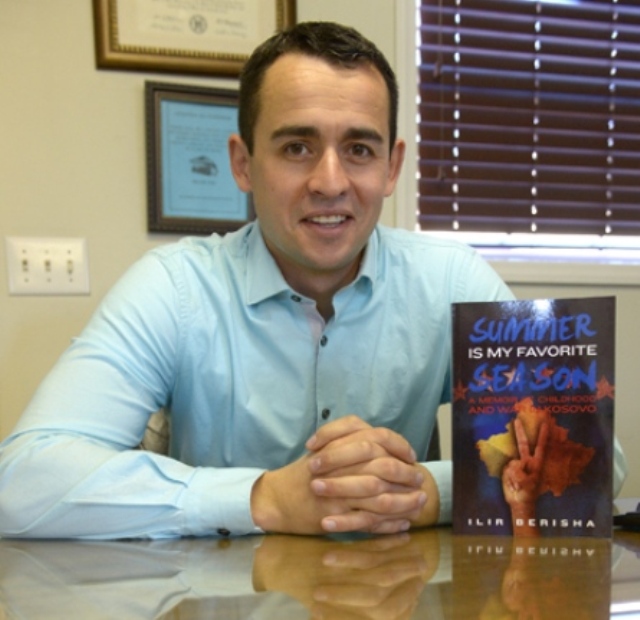 Summer Is My Favorite Season: A Memoir of Childhood and War in Kosovo
By: Kosovo Diaspora December 25, 2013
Ilir Berisha recently published a book named "Summer Is My Favorite Season: A Memoir of Childhood and War in Kosovo." The book captures Berisha's experiences growing up in Kosovo and the impact the war had on him and his community. Today, Berisha lives in United States and said for The Times News that "he believed the American dream remains alive based on his experiences and that with some hard work; anybody can do anything and be anything they want."
Ilir Berisha vividly recalls the time when he could hear NATO bomb strikes against the Serbian army in his homeland of Kosovo in April 1999. Berisha was living in the country's capital of Pristina in the late 1990s when the Kosovo War raged. Conflict erupted between the ethnic groups in the region. Berisha said the Kosovo Liberation Army (KLA) was formed to combat Yugoslav forces led by Slobodan Milosevic and the Serb militia. The KLA was a paramilitary organization comprised of ethnic Albanians.
Berisha's family was very limited to where they could travel at the time. He said when NATO forces led by Great Britain and the United States decided to intervene and strike the opposition with bombings, it was a relief for his family because they believed the war would soon come to an end. Berisha's family included his father, Hysen Berisha, mother Xheva Berisha, sister Fjolla Berisha, and brother Shpetim Berisha. On a second attempt, the family was able to cross the border into Macedonia to flee the fighting. The bus they traveled on had a capacity of about 50. Berisha said there were about 100 people on the bus when they departed to Macedonia.
During the trip, Berisha said a Serbian militia checkpoint stopped the bus and checked all of the men's papers to see if they were affiliated with the KLA. None of the men on board the bus were part of the KLA and were let through, Berisha said. Discrimination by the Serbs against his Albanian community was constant, according to Berisha. Berisha recalled when he was a boy living in the city, the Serbs would limit what they could do — even how they played outside. Since 1999, Berisha has called North Carolina his home. He left with his family for the United States after spending about two months in a refugee camp in Macedonia. His first stop was in High Point before finding his way to Burlington.
Today, Berisha, 28, lives with his family in Elon. He graduated from Western Alamance High School in 2003 and later graduated from Elon University in 2007 with a degree in creative writing. Berisha started a business in 2008, Cash For Cars, which is at 1004 S. Main St. in Graham.While at Elon University, Berisha began writing a book titled "Summer Is My Favorite Season: A Memoir of Childhood and War in Kosovo," which was self-published earlier this year. The book captures Berisha's experiences growing up in Kosovo and the impact the war had on his community. "I felt like I had to write this story," Berisha said. "It meant so much to me."
Berisha said the book's title comes from a childhood memory, when his family would go to their summer home outside of Pristina in the countryside. The village where the summer home was located was in a predominantly Albanian area and the Serbs didn't bother the people there like they did in the major cities. Berisha said as a child he was free to play with the other children at the village — that's why summer is still his favorite season.
Since coming to North Carolina, Berisha said he has returned to Kosovo to visit with some of his family that remains in the region. Berisha said Kosovo remains one of the poorest countries in Europe and that there is still political tension there.
Berisha still thanks those who helped his family get established years ago in Burlington including members of Christ Church, now called Hillside Presbyterian Church. Among those who first met the Berishas in 1999 were Bob and Ruthie Garner. The Garners lived in Burlington at the time and have since moved to Raleigh.
Berisha said the Garners remained active in his family's lives including taking him to soccer practice and helping him with matters at school when he was younger. Bob Garner said when the Berishas came to Burlington they didn't have many material possessions but worked hard to save their money from jobs they secured and were able to become productive residents of Alamance County. "They are all very successful," Bob Garner said. "It's in incredible story. I admire the family so much." Bob Garner said he first read the manuscript for Berisha's book eight years ago. He said that Berisha never gave up his dream of writing the book and getting it published.
Berisha said the book can be purchased online at several sites including Amazon.com. He hasn't ruled out writing another book in the future.
The book includes several pictures taken during Berisha's childhood and his time in Kosovo.He now calls North Carolina his home and doesn't plan to return to Kosovo. Berisha said his future plans including growing his business in Graham. Berisha said he believed the American dream remains alive based on his experiences and that with some hard work, anybody can do anything and be anything they want.
The original article was posted at Thetimesnews.com Click here to read the original article.