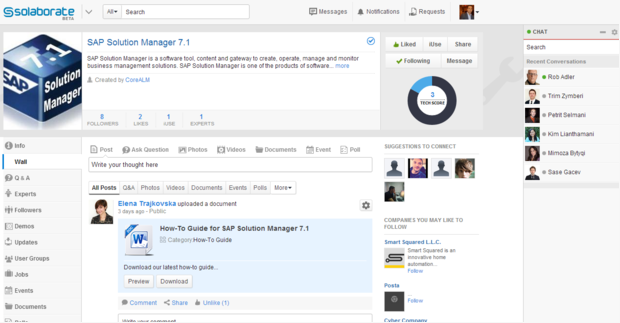 Solaborate: Vote Kosovo-born Entrepreneur to Win Tech Crunch Challenge
By: Kosovo Diaspora September 10, 2013
Solaborate, a Los Angles-based social media start-up company founded by Kosovo-born entrepreneur,  is participating in the Startup Alley Tech Crunch Disrupt SF 2013 Competition. It is an event organized by a TechChrunch, featuring new start-ups, which showcase their talent and technology to a jury and a wide audience.
The Founder & CEO of Solaborate is Labinot Bytyqi from Kosovo. He needs our support. Kosovo Diaspora medium calls on all members of Diaspora from the Balkans to Vote here for Solaborate to win.
The voting is taking place now until 12:00 midnight Vote here now for Solaborate.
Fifty start-up companies presented their model yesterday, and another fifty, among them Solaborate, presented today. Based on our votes by the audience, Solabroate may be able to received the  Audience Choice Winner. If the company is selected, it will gain the right to engage in the Tech Crunch's Battlefield Finals, where the winners will receive a grant of 50,000 USD and the Disrupt Cup.