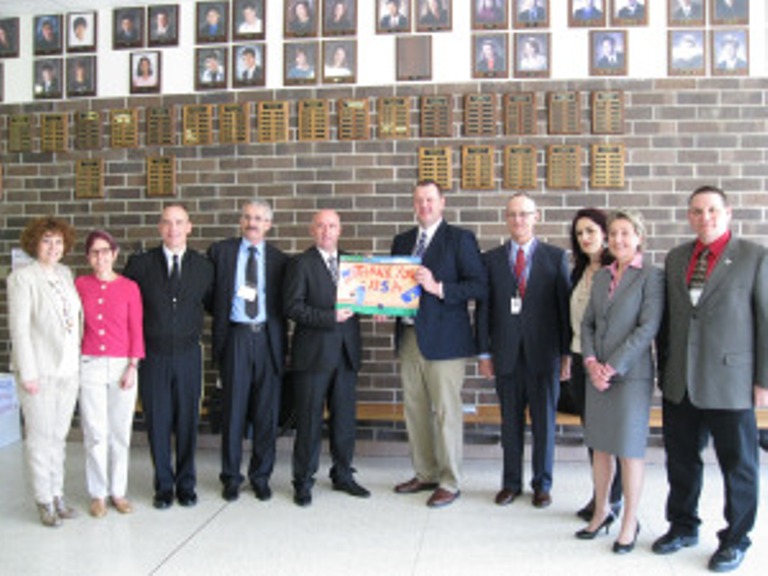 Sister Cities: A Partnership Between Peja, Kosovo and Johnston, Iowa
By: Kosovo Diaspora May 31, 2013
The city of Johnston, Iowa in the United States became a sister city of Peja, Kosovo. This is a great step forward for the small country of Kosovo in building its international links. 
The city of Johnston and the city of Peja, Kosovo, officially are sister cities, making Johnston the 13th Iowa community to form such a relationship.
A delegation from Peja spent time in Johnston last week, touring the area, observing schools and signing the sister city agreement.
Peja now is the 27th sister city for Iowa, according to Sister Cities International. Peja, with a population of 85,000, is located about 50 miles west of the Kosovo capital city of Pristina.
"This is a great pairing," Johnston Mayor Paula Dierenfeld said. "It wasn't necessarily something we went out looking for, but sometimes good things happen by accident and this is one."
Johnston officials first learned details about Kosovo in 2011 when the Johnston-based Iowa National Guard entered a partnership with the military in Kosovo. The relationship was arranged by the U.S. Department of Defense.
A National Guard official "took the approach of involving the whole of Iowa with the whole of Kosovo, encouraging not just the military to have a relationship, but the schools and the cities," Dierenfeld said.
Last summer, the president of Kosovo, Atifete Jahjaga, visited Johnston. The city teamed up with Camp Dodge to host a reception for her delegation.
"We spent a wonderful evening learning about each other, our cultures, our interests, our similarities and our differences," Dierenfeld said. "That's when an interest in developing a relationship began."
While in Johnston, Jahjaga invited Dierenfeld to attend an international awareness conference she hosted in Kosovo, a round table about the issues facing women regardless of where they live. In October, Dierenfeld traveled there and spent a whirlwind 48 hours at the conference and meeting with officials from Peja. The city was presented as a good match for Johnston.
Communication via email and through the National Guard continued after the trip and culminated last week in the signing of the sister city agreement between Dierenfeld and Peja Mayor Ali Berisha.
"The economy in their country is very similar to Iowa's — very ag-based," Dierenfeld said. "Almost 60 percent of the land there is arable and so they're very interested in developing a relationship here in Iowa that could help them grow their ag economy and, of course, we are home to Pioneer and John Deere, so they're looking forward to making those contacts."
Interestingly, 60 percent of the city's population is younger than the country's average age of 25, so the people there are quite eager to learn what they can, Dierenfeld said. Also, the Republic of Kosovo has existed as an independent democratic nation for only five years.
"That just sends chills down my spine," Dierenfeld said. "The people we've met with fought Serbs to win their independence. They're like Revolutionary War heroes in real life, today, and you can feel that energy and excitement every time you get together with them."
Dierenfeld looks forward to developing the relationship with the aid of schools, businesses and government.
"We're excited to see what we can learn from each other," she said. "What is most exciting for us is that we really can make a difference there and I don't know if we could do that elsewhere. Their economy is so similar and they have such a strong interest in educating their young people. We have many similarities and admire their goals and hopes for their people."
Neighboring Des Moines has five sister cities and leaders encourage all communities in Iowa to consider establishing such arrangements.
"We're always excited about relationships and building opportunities for citizens educationally and otherwise," Des Moines Mayor Frank Cownie said. "The business relationships are important, as well. Whether it's Johnston, Des Moines or wherever, with all of us working together on these types of efforts, it sends a positive message to the rest of the world."
This article was written by Kristin Danley-Grainer
Click here to view the original article at DesMoinesRegister.com