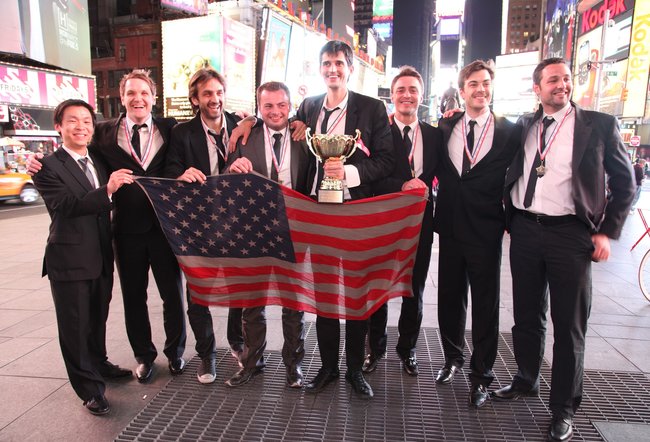 Shkumbin Mustafa: President of New York City Handball Team – NYTimes
By: Kosovo Diaspora September 2, 2012
Taken from New York Times.
On a makeshift court in Minneapolis, victorious players locked arms around one another's necks and broke into an unusual cheer.
"Everyone count in your language," Shkumbin Mustafa exhorted. "Let's see how it sounds."
What followed was a raucous chant redolent of the Tower of Babel — "un, deux, trois!" "eine, zwei, drei!" "ena, dyo, tria" — and then the jubilant hollering of two words that unite men and women from more than 20 countries: "New York!"
The men's squad from the New York City Team Handball Club had won its fourth national title in five years in May, bolstering its reputation as the best team handball outfit in the United States, where the word handball often evokes two leathery, sun-baked men smacking a blue rubber ball against a wall, not the rapid-firing Olympic team sport that has been described by the club's players as water polo without water, lacrosse without sticks or soccer using hands.
These players, who hail from five continents, would not need to put the sport in such terms in their home countries, where handball — the preface "team" exists only in the United States — is popular. Although most are European, members of the club also come from Senegal, China, Colombia, Japan, Egypt and the Dominican Republic.
"Not everybody has an easy story coming here or why they came here and who they left behind," said Mustafa, the club's president and starting center back. A political refugee from Kosovo, he moved here in 1999 with "a small bag, a tennis racket, a pair of jeans and two T-shirts." Initially he did not expect to stay long, but now he calls New York City home.
"Everybody needs something to fit in," he said. "We have the Olympic sport of team handball."
The team includes a German doctor and a Montenegrin custodian engineer, a French financial analyst and an Egyptian cook/personal trainer, an Italian travel agent and a Greek hairdresser. Despite their various backgrounds and myriad languages, "we understand each other in the court," said the top scorer, Sayed Shalaby, the Egyptian. "Handball is the same. Different language, but same handball."
More than 41 million people around the world are involved with team handball, said Mustafa, an ambassador for the game as much as a player. Nearly 20,000 fans packed an arena in Belgrade, Serbia, to watch the finals of the 2012 European Cup. But the sport is relegated to the fringes of American consciousness, if it exists at all. Only 800 people play competitively in the United States, said Mariusz Wartalowicz, the USA Team Handball technical director.
Team handball is one of three Olympic sports in which the United States has not won a medal, the other two being table tennis and badminton. USA Team Handball did not qualify for the London Games; in fact, the national team has not competed at the Olympics since the Atlanta Games in 1996, when the hosts received an automatic bid.
Lewis Howes, the "token American" on the New York City team, said he was frustrated by his country's ignorance. When he saw the Olympics of handball in 2008, he said: "I got mad because I'd never seen the sport before. I was like, 'Why don't Americans play this?' "
A former collegiate all-American who went on to play in Arena League football, Howes packed up his life in Columbus, Ohio, and moved to New York City to pursue his handball ambitions and chase his childhood goal of playing for Team USA.
"A lot of people say they want these things, but they don't take action," Howes said. "I want to be an example, go after my exact dream."
Though he has been playing competitively for less than a year, Howes recently made the national team and competed in the Pan-American Championship in Argentina in June. The United States placed seventh out of 10 teams.
Although Howes, 29, still fantasizes about Olympic handball stardom — 2016 might be his last chance — the rest of the team plays for the love of the sport and the community it provides.
Many players were professionals in their homelands. Shalaby won 10 Egyptian League titles with Cairo-based Zamalek Sporting Club, and claimed three African Championships as a member of the Egyptian national team. The former French professional goalkeeper Martin Strub-Hidalgo played against international superstars like Nikola Karabatic (2007 International Handball Federation player of the year) and Luc Abalo, who have each won two Olympic gold medals and two world championships with the French national team.
"I remember very well having to deal against them as a goalie was never an easy task," Strub-Hidalgo said.
Whatever their backgrounds, team handball players in America find it is a humbling and unifying part of their immigrant experience.
"It's totally different," said Strub-Hidalgo, whose European teams used to provide housing, transportation and food, as well as a paycheck. "Even my shoes, I never bought shoes," he said, flashing a pair of simple black-and-white Adidas. "Maybe my second shoes I bought of handball in my life."
Also gone are the days of well-maintained arenas. Here, they play on high school gym basketball courts, where they use masking tape to outline a handball court.
Despite the material differences of team handball in America, the players say they would not trade their team for anything. Not only do they play on the best squad in the country — many of them argue that they could beat international teams — but they also say that they have found a family. The players are not shy about public displays of affection; they hug and kiss seemingly any chance they get, whether before practice, during breaks in game action, or at the bar. The team goes drinking together every Saturday night in a Hell's Kitchen bar that proudly displays a signed team jersey framed on the wall.
Sport as connective tissue is nothing new, but Mustafa says his team is unique. As he tells it, the team was founded in 1973 by the United Nations so that immigrant employees could continue playing their beloved sport. The club no longer retains any affiliation to the United Nations, but Mustafa said it still promoted the ethos of its parent organization.
"You put in a team, 16 guys from 16 different countries," he said. "Each one of them has a different culture, different tradition, different language. "Some of our guys don't even speak English, but we get on the court and we communicate somehow."
Right wing Djole Radovanovic and goalie Ivan Ignjatovic are two stalwarts. As Serbians, history might consider them enemies to Mustafa, an ethnic Albanian Muslim, but "here we're best friends," he said.
Mustafa then smiled wryly, his twinkling eyes punctuating his rugged, handsome features.
"Peaceful conflict resolution is part of our plan," he said only half-joking. "Wider plan: solving all the problems of the world."
***
Source: BEN TEITELBAUM and MONICA ALBA. "Unified in America by an International Sport." New York Times. September 2, 2012. http://www.nytimes.com/2012/09/02/sports/unified-in-america-by-international-sport.html?_r=1&pagewanted=all