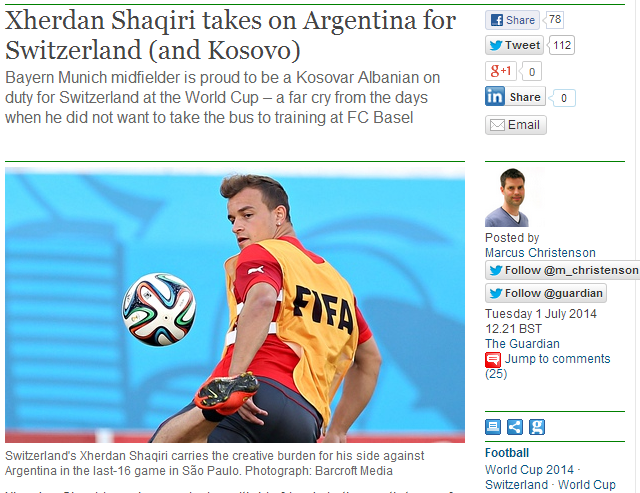 Shaqiri's Hat-trick Sparks Reactions, Puts Kosovo on the Map
By: Kosovo Diaspora July 21, 2014
Xherdan Shaqiri scored a spectacular hat-trick against Honduras to help Switzerland advance to the second round in the FIFA World Cup 2014. Shaqiri's hat-trick was also the 50th in the World Cup history, and only second in this year's tournament. His stunning performance has been praised all over the social media. According to Topsy.com, a social analytics website , Shaqiri's name was mentioned over 125,000 today.
Shaqiri's stunning performances for Switzerland during the qualifying rounds and today in the World Cup have deservedly earned him the epithet of a hero for the country he represents. In Kosovo, his birthplace, Shaqiri is also considered a hero, an ambassador, and a role model.
The President of Kosovo has honored him with the title of the Honorary Ambassador of Kosovo. Shaqiri has the Kosovo, Albanian, and the Swiss flag embedded on his shoe. He also carried the Swiss and Kosovo flags while celebrating the Champions League 2012/2013 title he won with FC Bayern.
Dreams come true…….:))))))) pic.twitter.com/ILof6Zgqfm

— Xherdan Shaqiri (@XS_11official) May 25, 2013
Valon Behrami, Admir Mehmedi, Granit Xhaka and Blerim Xhemaili are four other Albanians from Kosovo and Macedonia featuring for Switzerland. Their success with the Switzerland team has lead many in Kosovo and Albania to support Switzerland in the World Cup.
Below, there are some Tweets from or about Kosovo sparked by Shaqiri's superb performance tonight.  Tweets come from senior Kosovo politicians, including the country's President and Foreign Minister.
Shaqiri thanking his fans in three languages, including Albanian.
Achtelfinale!!!!:-) danke für die, die an uns geglaubt haben…:-) flm krejtve qy kan besu tek neve!!:-) good… http://t.co/opbNCQFyoo

— Xherdan Shaqiri (@XS_11official) June 25, 2014
Kosovo President saying "Thank you for granting such great memories to Kosovo.
Hat-Trick në Kampionat Botëror! Xherdan Shaqiri kujdes me zemrat tona! Urime dhe flm të gjithëve për kujtimet që i dhuruat Kosovës sonte.

— Atifete Jahjaga (@PresidentKosovo) June 25, 2014
BBC: Switzerland's unlikely World Cup heroes
The Guardian: Xherdan Shaqiri takes on Argentina for Switzerland (and Kosovo)
Shaqiri putting Kosovo on the map what a hit son #SUI @XS_11official

— gentian limani (@gent1022) June 25, 2014
Kosovo : Honduras 3:0!! #HONSUI

— Cédric Wermuth (@cedricwermuth) June 25, 2014
You could imagine how bloody good the #Kosovo footie side would be if several of Kosovar origin played for them. #Shaqiri #Januzaj #Xhaka

— M (@mel_huang) June 25, 2014
Shaqiri's hat trick v #HON is evidence enough #Kosovo deserves its own national team. @XS_11official #SUI @FIFAWorldCup

— George Aspros (@BDTallyHO) June 25, 2014
Fuqia e futbollit Kosova, kantoni i 27 i Zvicrës (edhe atë me flamur me shqiponjë) "Die Weltwoche" #kosova pic.twitter.com/K5TiCG988f

— Adriatik Kelmendi (@adriatikk) June 26, 2014
Wir alle in #Kosovo sind stolz auf Xherdan Shaqiri @XS_11official der heute meisterhaft drei Tore f. die #Schweiz geschossen hat.Gratuliere!

— Enver Hoxhaj (@Enver_Hoxhaj) June 25, 2014
@XS_11official has now scored as many goals as @england did in three games at this #WorldCup. 2. #KosovoPower

— Xhemajl Rexha (@xhemajl_rexha) June 25, 2014
@portalikohanet hasn't looked brighter for a long time. All about one man – @XS_11official #KosovoPower pic.twitter.com/PgsTIWDKXB

— Xhemajl Rexha (@xhemajl_rexha) June 26, 2014
Shaqiri you make me proud!!!! pic.twitter.com/RUeceyCai2

— Vlora Citaku (@vloracitaku) June 25, 2014
Interesting fact for Kosovo: two best players will play at World Cup: Januzaj (Man Utd, Belgium) and Shaqiri (Bayern, Switzerland)

— Stefan Spreekt (@stefanspreekt) April 23, 2014
#Kosovo outscored #Italy & #England combined. #worldcup2014 #worldcup

— Petrit Selimi* (@Petrit) June 25, 2014
Pride is when the guy from your hometown scores a superb goal in #WorldCup @XS_11official #GoSwitzerland

— Lirim Veliu (@LirimVeliu) June 25, 2014
5 of Switzerland's 6 goals have been scored by an Albanian #worldcup2014

— Admir Molla (@AdmirMolla) June 25, 2014
Shaqiri pode estar nas eliminatórias da próxima copa. Mas por outro país. Kosovo deve ser aceita pela Fifa até lá.

— Leandro Santiago (@lesantiago80) June 25, 2014
3-0 à la 46 e min: déception de plus d'une centaine de spectateurs à #Gjilan ville de Shaqiri au #Kosovo pic.twitter.com/t1wltckncG

— Laurent Burkhalter (@larry_GVA) June 20, 2014