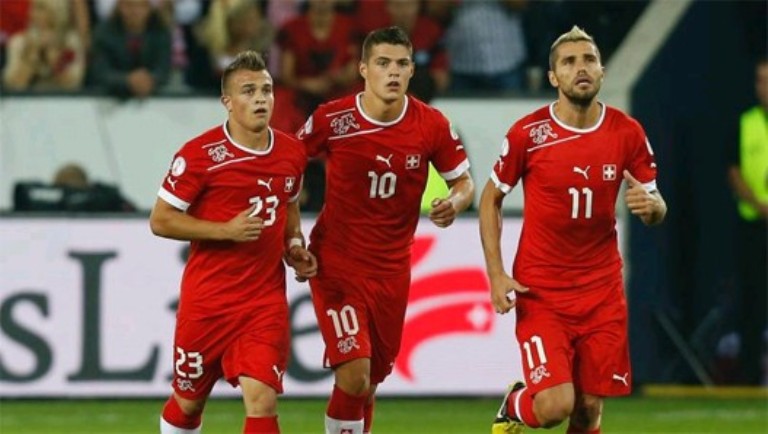 Shaqiri, Xhaka and Behrami: Pledging for UEFA recognition of Kosovo
By: Albina Makolli July 23, 2013
Xherdan Shaqiri is known for walking on the filed with three different flags embossed on his soccer shoe: the Swiss, Albanian and Kosovar flag. He respects the Swiss anthem but does not place his right hand on his heart, nor does he move his lips. Alongside Shaqiri stood also Granit Xhaka (signed by the German team Borussia) and Valon Behrami (Italian club Napoli). Albania's captain, Lorik Cana, who also plays in Italy for Lazio, was also bron in Kosovo. Last year's World Cup qualifying match against Albania was a very special match, not only in terms of ethnicity but also in terms of politics. Ethnicity plays an important role because the Swiss national team has 9 players who were either born in Kosovo or who are ethnically Albanian. According to Shaqiri, the game against Albania was an emotional game for him. On that game, two-thirds of the crowed was Albanian and Kosovar. The flag with the Swiss white cross was outnumbered by the double headed black eagle three to one.
The situation is not only emotional in terms of ethnicity and emotions, politics play an even more important role, even if some might say that politics do not belong into soccer business. Kosovo does not have a recognized national soccer team, nor is Kosovo's status not internationally clarified. There are EU member states that still do not recognize Kosovo. Due to a lack of unanimities, the UN has not yet accepted Kosovo as a member. The governing body of Europe, UEFA, has caught Kosovo in the middle because it requires UN membership before admitting a country to play. So far, 37 of UEFA's members have recognized Kosovo. However, in May 2012 Sepp Blatter, the Swiss president of FIFA (soccer's world governing body) has announced that Kosovo would be allowed to play noncompetitive matches against its members. This is an important step and may bring Kosovo closer to membership. At that time this statement caused controversy on the Serbian side of the border. Likewise, Spain and Russia do not support this step either.
So what we have now is a Swiss team with numerous players with an Albanian heritage. It is likely that those players started playing for Kosovo as soon as Kosovo was accepted into UEFA. Is Switzerland afraid of losing its players? The Swiss media dramatized this question, while, in fact, Switzerland might be in favor of Kosovo's entrance into UEFA. What is known for sure is that Shaqiri, Xhaka and Behrami signed a petition that pledges support for accepting Kosovo's national team. Shaqiri was sure that he was always going to play for Switzerland, but that was before the idea of a Kosovar national team existed. Xhaka is sure that if Kosovo was granted a recognized national soccer team, he would play for Kosovo.
Just like Kosovo's independence generated fears over setting a precedent for other non-recognized nations, it will do the same on an athletic level. This is the main point where political and athletic interests meet. Regardless, on the above mentioned World Cup qualifying match, Shaqiri scored Switzerland's first goal but he did not celebrate. After the game Swiss-Kosovar players exchanged jerseys with their Albanian colleagues. Shaqiri then walked off the field wearing an Albanian jersey, the black double-headed eagle against his heart and the three flags on his shoes.
See also this article in The New York Times.