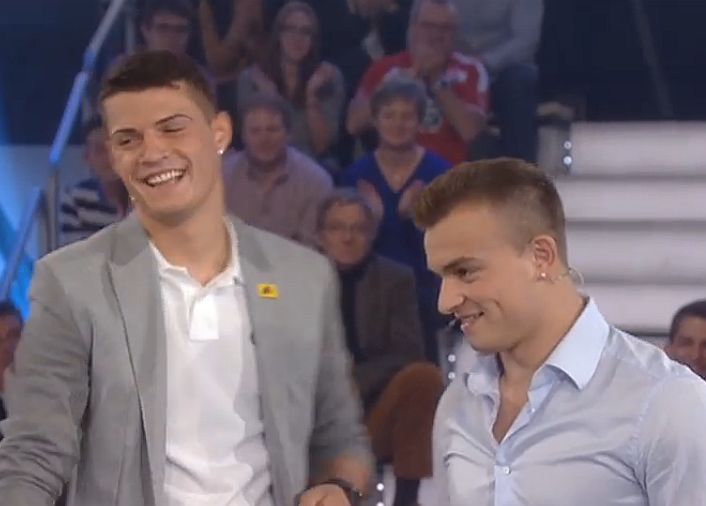 Shaqiri and Xhaka: Looking forward to the World Cup in Brazil
By: Albina Makolli November 12, 2013
They've been friends since their early childhood. Both started their football careers at FC Basel (Raiffeisen Super League). Granit Xhaka was 11 at the time, and Xherdan Shaqiri was 9. Granit was born in Switzerland, Xherdan in Kosovo. Both are aware of their Kosovar roots but appreciate the opportunities that Switzerland has offered them.
Xherdan Shaqiri
Xherdan Shaqiri is FC Bayern's secret weapon. He even earned the nickname 'Hulk'. Heiko Vogel (used to be Cheftrainer in FC Basel) says Xherdan is well in shape and that the girls like it. As soon as the team leaves the tour bus, girls line up and cheer his name. Ottmar Hitzfeld (his current Swiss national trainer) praises Xherdan for his incredible instinct, fantastic technique, his reliability on the field, as well as his good organization skills at the game. He is one of his key players despite his young age (22). Ottmar also appreciates his efficiency which is very difficult to be outperformed by any of his other players. Indeed, he poses a great risk to any goal keeper. Xherdan shot 10 goals and delivered 15 assists in 51 official matches. So far he has received 10 club awards, which proves he is more than just a reserve player to his good friend, Frank Ribery. They sure are competitive players but also appreciate each other's skills on the field. Franck Ribery confirms that Xherdan always performs well on the field.
Granit Xhaka
Granit Xhaka is a good strategic and intelligent player at the defense side of the field. His trainer, Lucien Favre, praises him for his intelligent performance at the field, which is the most important aspect for Favre. Granit is also known for being the Swiss/Albanian version of Christiano Ronaldo. Xhaka would like to play against Christiano Ronaldo, on the field and learn from him. "On TV it looks like Ronaldo does everything with so much ease and I want to see what's it's like to play against him," says Granit. Granit has been playing for Borussia Mönchengladbach since 2012. Martin Stranzl, one of his colleagues, describes Xhaka as a pleasant young man, with some rough attributes which proves helpful in football business. Recently, Granit has had individual training units with his Lucien Favre. They worked on perfecting Granit's skills and practiced catching the ball out of the air and becoming a quicker player in general. Lucien Favre is a trainer who enjoys spending extra time with his players on the field and provides advice.
Granit and Xherdan replying to their fans' twitter questions
What do you like most about FC Bayern?
Xherdan: Everything around it is brilliant. It's the perfect match for him … the city, the club …
Which player would you sign into FC Bayern?
Xherdan: Granit would be a good fit, but he prefers Lionel Messi, his role model.
What do you think about the goal-line technique?
Xherdan: Afterwards it's difficult to judge whether a goal was given or not.
Which stadium of the Bundesliga do you like the most and why do you wear no. 34?
Granit: Munich and Hamburg … He wears 34 because it was his first number when he started playing professionally.
Do you feel comfortable in Gladbach or do you miss the mountains?
Granit: Doesn't really miss the mountains, Gladbach is fine.
What would you be doing if you hadn't become a football player?
Xherdan: Would be selling men's suits.
Granit: Had started an apprenticeship as an office administrator before he began his football career.
Both boys feel comfortable at the teams they are currently playing for. Of course, they miss each other and their families. So, they appreciate the time they get to spend with their friends and family. In the meantime, however, they are focusing on the upcoming World Cup in Brazil. Granit wishes to play against Portugal and Xherdan against Germany.
Check out their visit at Sportstudio ZDF in Germany: