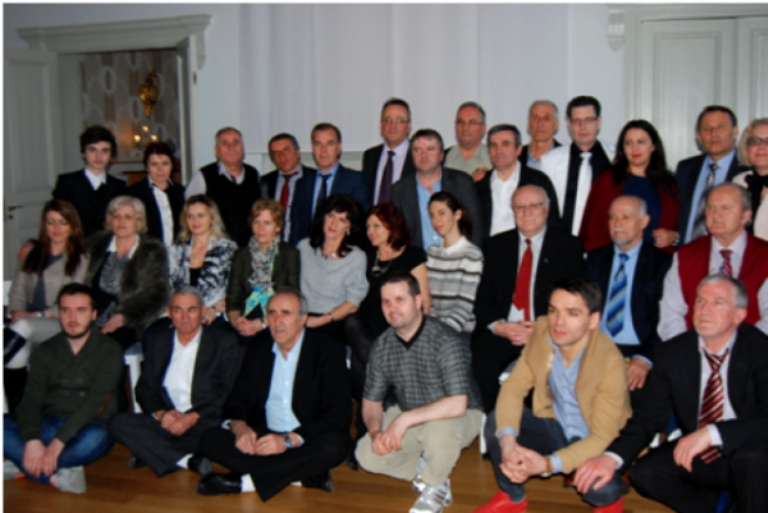 Seven Books receive promotion at "Sofra Poetike"
By: Valon Xoxa April 3, 2014
As part of the "Sofra Poetike", an annual cultural event organized by our diaspora in Sweden, seven books have been promoted from Albanian writers, as well as prizes were given for the best poetry of 2013. 
The Albanian Writers Association and Artists "Papa Kelmendi XI" and Cultural Center "Migjeni" in Boros, Sweden, have organized the cultural event known as "Sofra Poetike"(Poetic sit-down). At this event, there were many local and international intellectuals, creators, writers and journalists, as well as plenty of people from the local diaspora.
"I highly appreciate this event,it is vital to promote and keep the Albanian language and culture alive. This event inspires all other writers whom are willing to contribute and create better literature as well as contribute to a greater national cause"- this was a statement taken from Mr. Fetah Bahtiri's speech from the cultural organisation "Papa Klementi XI".
The following are the books promoted at the event " Kur i mbusha 70 vjet" – Fetah Bahtiri, "Malli për atdhe" – Nuha Zullufi, "Loti mbeti në gjirmë të zemrës" – Avdyl Uka, "Vrragë pështerri" – Hamit Gurgurit , "Zëri i Kosovës" – Bahtir Latifit as well as books such as "Edhe ne jemi Bota" and "Djali dhe tigri" by Sokol Demaku, a book dedicated to 4-grade education.
"Sofra Poetike" has a rather competitive feature where 23 poets have competed with 90 poems.
The original article was posted at Kultplus. Click here to read the original article