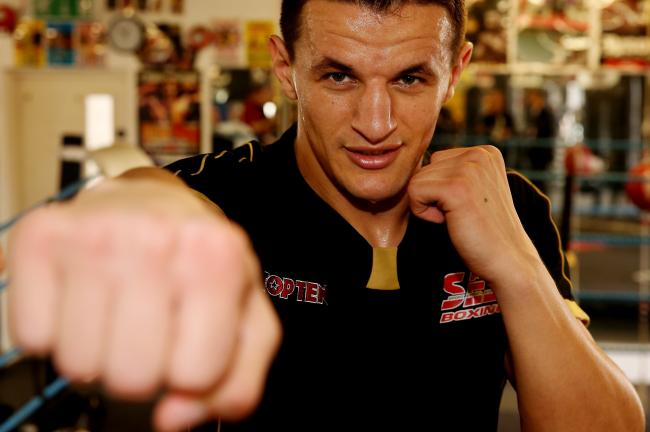 Robin H. Krasniqi, One Step Closer To The World Title
By: Valon Xoxa December 22, 2014
Robin Haxhi Kransniqi is a rising boxing star in Germany. Born in Junik, the well known Kosovo cradle of champion Luan Krasniqi, Robin has set firm steps towards the world title.
His match against Darius Szek, was a tough test of endurance and force. After 12 rounds of intense fighting, Robin Krasniqi was declared victorious with a unanimous decision by the judges. Apart from the fight in the boxing ring, the crowd had prepared a nice atmosphere. The predominantly Albanian crowd did not stop for one minute calling Robin to his victory.
After the battle, Robin Haxhi Krasniqi thanked the audience for the support in both the German and Albanian language.
Krasniqi's fight was followed by a great crowd in twitter:
Robin Haxhi Krasniqi triumfon ndaj polakut Sek duke mbrojtur dy titujt në WBA dhe WBO http://t.co/TnD4Zsxldl

— Ora News (@OraNewsRTV) December 22, 2014
Robin Krasniqi – Sieg gegen Sek: "Bereit für Brähmer!" #Berlin – http://t.co/YSgMPKPVLz #Berlin

— Berlin Newz (@Berlin_Newz) December 21, 2014
Robin Krasniqi verteidigt seine Titel und sichert die Chance auf einen WM-Kampf ab http://t.co/coRgq5rAzP http://t.co/NG52EKJ72S

— xboxen (@xboxen1) December 21, 2014
Krasniqi clings to his belts: Robin Krasniqi retained his two light-heavyweight titles by beating Dariusz Sek … http://t.co/BK1TGFgHrL

— Sports news (@newsSports_news) December 21, 2014
Krasniqi s'e harron vendin e tij, shfaqet me flamurin e Shqipërisë dhe Kosovës: Haxhi Kra… http://t.co/ZaHSRbmyoo #zeri #kosova #shqip

— Zeri (@Gazeta_Zeri) December 21, 2014
Haxhi Krasniqi: Shqiptarët e mi, fitorja ime është fitorja juaj: Haxhi Krasniqi është duk… http://t.co/gsfDj0Ewel #zeri #kosova #shqip

— Zeri (@Gazeta_Zeri) December 21, 2014