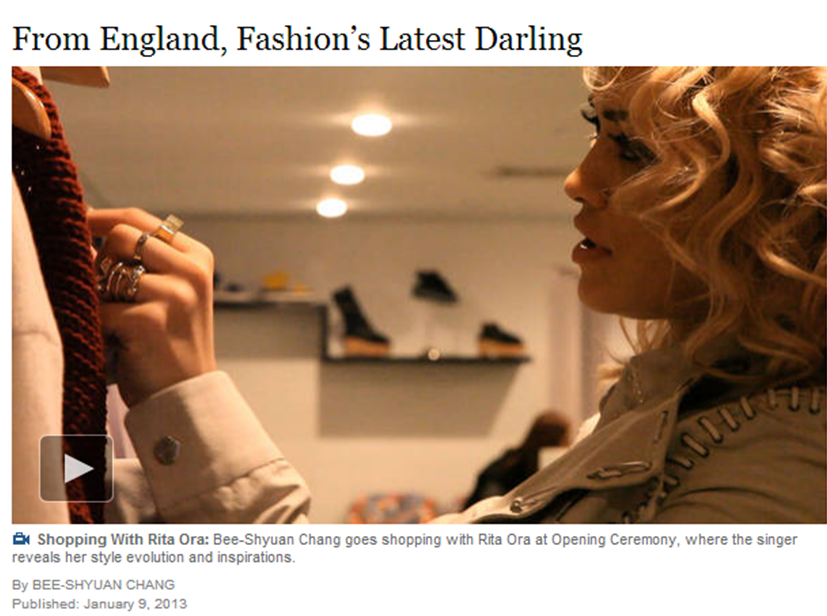 Rita Ora on New York Times: "From England, Fashion's Latest Darling"
By: Rilind Latifi January 15, 2013
REPOST
By BEE-SHYUAN CHANG for the New York Times
If fashion muses bloom in the dead of winter, as ateliers begin to hum with sewing machines preparing for the Fall 2013 collections, the singer Rita Ora might be a particularly flamboyant breed of English rose. At 22, Ms. Ora, the prized protégé of Jay-Z, has been rapidly winning over designers with her carefree style: a blend of hip-hop, designer bling and '90s Gwen Stefani.
"Fashion has been so serious for so long, we're ready to have some fun, aren't we?" said the Pucci designer Peter Dundas, who dressed Ms. Ora for several red carpet events last year and admires her "hip-hop and ultrafeminine yet tomboy look." Mr. Dundas met the singer for the first time when he invited her to escort him to Bergdorf Goodman's 111th anniversary party last October. Ms. Ora wore a classic cream column that matched her "Jean Harlow hair," Mr. Dundas said, declaring his date "a ton of fun."
Ms. Ora indeed seems game for mischief. "We went out big time," she said, giggling on a December Tuesday, over lunch at Balaboosta in NoLIta. Her voice was slightly scratchy from the previous night, when she'd performed her last show of the year at the Highline Ballroom in a giant fur coat, which quickly came off to reveal a black sports bra and loose Roberto Cavalli printed silk pajamas. Afterward, she partied into the wee hours with Iggy Azalea, an opening act for Ms. Ora's sold-out show; Cara Delevingne, a model whom Ms. Ora first met at a music festival and called "my baby"; and Ms. Ora's older sister, Elena, 24, who is one of her managers and was also at lunch, along with the singer's publicist, her stylist, and the stylist's assistant.
"I just had to let loose," Ms. Ora said. "It was a big year for me."
Indeed. Peroxide blonde, and usually spotted with her full lips painted matte red (although for the interview she wore a pinkish nude to "match the neutrals theme" of her zippered blush pink leather pants and taupe silk top, both by Salvatore Ferragamo), Ms. Ora seems as if she would probably be able to find a spotlight in Antarctica. And this despite the fact that her first album, "Ora," doesn't yet have a firm release date in the United States, though it was released (at No. 1 on the pop chart) in Britain in August and a music video single, "Shine Ya Light," has topped 5.6 million views on YouTube at last count.
Ms. Ora is not a figure without controversy. In early December, there was an apparent dispute with the reality star Rob Kardashian, who was rumored to be her boyfriend, although the relationship was never officially acknowledged; he suggested she had cheated on him with "nearly 20 dudes." The rant on Twitter, since deleted, spawned the unfortunate hashtag "RitaWhora."
"We were friends," said Ms. Ora, her face downcast over a chicken salad. Then she bucked up: "It's never really about what anybody else does. It's really about your reaction that makes it important in your life when it sometimes isn't."
A couple of weeks after the interview, though, she was less reserved in an expletive-laced Twitter face-off with Holly Hagan of "Geordie Shore," the British answer to "Jersey Shore," furiously rebutting Ms. Hagan's allusions that she had an affair with Jay-Z. Ms. Ora's tweets have since been removed.
Still, while Twitter spats are par for the course when you're a budding pop star, capturing the imagination of the fashion industry is more difficult. Along with wearing the glamorous Pucci designs, Ms. Ora has proved an able mannequin for stacks of gold accessories, including a couple of Cartier Juste un Clou bangles (from her performance at a party for the bracelet in New York last April); newly acquired Birkin bags (a black and a red, both with gold hardware, with the latter finding coveted real estate on her "wall of red handbags" in her apartment in Kensington); mannish suiting (like the tuxedo jacket she wore in October to perform at the Absolut Tune party hosted by Charlotte Ronson); wacky House of Holland outfits (one of which earned her a spot in Vogue's "Best Dressed" selection in November); and Vivienne Westwood corseted creations (such as a Cinderella-like gown she wore to the British Fashion Awards in late November after the British Fashion Council invited her to perform).
For fashion party bookers, Ms. Ora seems to meet all necessary prerequisites. Janjay Sherman, the publicity and talent relations director of Extra Extra, the events arm of Paper magazine that put together the Absolut Tune party for the liquor giant Pernod Ricard, said she had recommended the singer because she started popping up on the gossip Web site JustJared.com. "Plus, I like her sound and I like her look, and in order to become mainstream, you need to have the look, the sound and a strong social media following," Ms. Sherman said. "She has the three things."
Or as Sarah Bessette, the public relations director of spirits at Pernod Ricard USA, said: "She's backed by Jay-Z. Everything Jay-Z touches turns to gold."
Despite Ms. Ora's youth, the English designer Henry Holland of House of Holland is already sensing a maturation of her fashion choices. "From her first video she was very urban and now that she's become more successful, she's got more of a polish to her look, but it's nice to see that she still adds an urban twist on things," he said. "She'll still pair a gown with trainers. She's not having an identity crisis."
Mr. Holland suggested it's because music and fashion often collide in London circles. "These girls have a really strong sense of self and what they want to look like," he said. "They're more educated and aware of designers. They're not being pushed around by music executives."
In fact, Ms. Ora will argue with her stylist team, led by Jason Rembert in New York, and her best friend, Kyle De'volle, in London. "We fight all the time, and she won't back down," Mr. Rembert said after lunch. "But on the other hand, I can respect that. A lot of girls will say they're into fashion when they're not. That's not the case with Rita. She'll know who some of the most underground young British designers are."
Ms. Ora attributes much of her fashion education to her surroundings. "It was really mixed cultures growing up," she said. "I had metrosexual and homosexual friends; I had other friends who had nothing to do with anything. It was a whole bunch of characters."
Born in Kosovo to Kosovar-Albanian parents, Ms. Ora was a year old when her family moved to London. They eventually settled near Portobello Road in West London. Her father, Nick, owns and operates the Queens Arms pub in Kilburn, where young Rita learned how to pour a pint; her mother, Vera, whom she described as "the coolest" and her "superhero," is a psychiatrist. She also has a brother, Don, 15.
When she wasn't playing soccer ("I was the biggest tomboy," she said, adding that her favorite team was Chelsea), Rita was singing. At 11, she applied to the Sylvia Young Theatre School and was accepted on an audition plus a written paragraph in which she described her love of music and her pet rats, Ant and Dick.
At 14 she started to pay attention to her looks: ethnically ambiguous ("I'm often mistaken for Spanish or Latin descent," she said), with a curvaceous figure. With Portobello Market at her doorstep, she was "surrounded by clothes," Ms. Ora said, adding that many of her friends worked at the stalls. "I never really had much money. I would buy things for two or three pounds and completely remake them, like rip up two T-shirts and sew them back together front to back. Somehow no one would understand what I was wearing, but I did." Her closet today is still full of market finds, she said, interspersed with labels like J. W. Anderson and Maison Martin Margiela.
And Ms. Ora sees more designer clothes in her future, particularly as invitations to fashion shows come flowing in. (She has already been in the front row at Louis Vuitton and Vivienne Westwood. With a tour approaching in February and March, though, she has yet to figure out which will fit in her hectic schedule.) She's inspired by "what the designer was thinking, how did he choose fabric to how he sewed the embroidery," Ms. Ora said, adding: "One day, I want to do a line. But maybe after I do like 11 albums. Music is my first and foremost."
Notably, though, she has sought out a sartorial signature. A photo of Daphne Guinness adorns her living room, focusing on the heiress's fingers, completely covered in rings.
"That's another characteristic to know you by," Ms. Ora said, showing off her own assortment of excessive gold baubles on her fingers. "Every person has a signature. Just some people don't know it yet."
And her heels, of course, are usually high, like the nude mesh Christian Louboutins she wore at lunch — scored at a sample sale, she said.
"Like the kitten heel, I hate," Ms. Ora said, cringing. "Either wear a heel or don't wear a heel, O.K.? I really despise those wedge trainers, too." (Though she loves Air Jordans.) "I understand they want the lift, but I think they're a sin. One hundred percent sin."
And perhaps redemption is to be found on the red carpet. "I am committed to glamour," she said.
***
(The original article was published recently in the NYT)
New York Times, Rita Ora: From England, Fashion's Latest Darling, January 9, 2013. http://www.nytimes.com/2013/01/10/fashion/rita-ora-is-fashions-latest-darling.html?pagewanted=all&_r=0