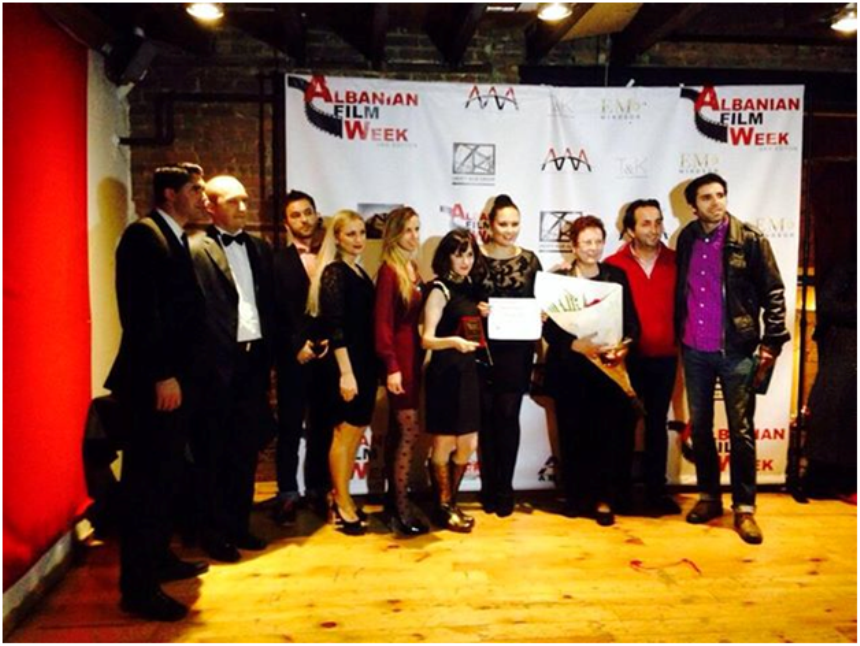 "Right to Love" Wins the Best Feature Film
By: Kosovo Diaspora November 17, 2013
The feature-length movie "Right to Love," directed by Paul Kurti,was screened as the last movie for this year's AFW event. "Right to Love" brings a moving love story of a Muslim girl, Amina, and a Catholic guy, Tony, who struggle to overcome their religious and ethnic differences. But despite these dissimilarities, we see love, respect, honesty, and dignity that the lead characters share for one another. The remarkable cast of "Right to Love," the honorable Albanian actress, Pavlina Mani, as well as the lead actors, Amina Zhaman and Shpend Xani, brought a stellar performance that sparked the Producers Club' audience on Thursday night.
"Right to Love" also portrays family respect, especially when Tony (Shpend Xani), an Albanian businessman, cannot convince his mother (Pavlina Mani) to accept his Muslim actress-girlfriend (Amina Zhaman) he loves so much. Rather than the traditional romantic ending, where the boy gets the girl, "Right to Love" left the audience with questions on why the couple did not end up together. In the end, Tony chose his mother's values before his love, proving the strong family values and ties the Albanian culture shares.
"Right to Love" was nominated as the best feature film on Thursday night, September 14, 2013, during the closing of the AFW festival. Amina Zhaman, Shpend Xani, Pavlina Mani, Luan Bexheti,Ariot Myrtaj,  among others who were in the "Right to Love" cast were present during the award and celebrated with everyone their achievements and success.
The Albanian Film Week 2013, put forth an amazing event this year. The AFW team with their hard work and dedication showed how successful art can be the cultural bridge for Albanians all over the world. The media, publicity, and articles during this year's AFW event, portray the attention that the festival got as well as the outstanding work put forth from everyone who participated and organized the event.