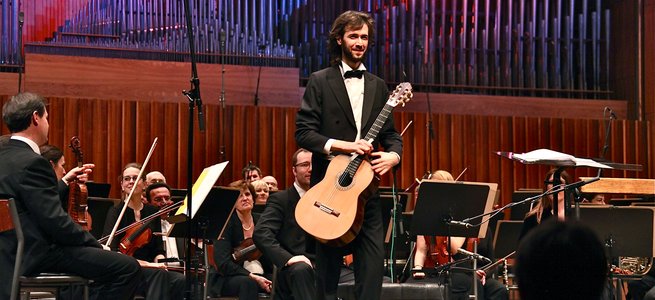 Petrit Çeku in the Czech "Open Guitar Festival"
By: Fitim Salihu June 22, 2014
Kosovo-born classical guitarist Petrit Çeku will perform at the "Open Guitar Festival" in Czech Republic this week, which will be held in the historic Gothic castle of "Krikvolat."
Petrit Çeku was born in 1985 in Prizren where, during primary music school, he received instructions from Luan Sapunxhiu. In 2002 he moved to Zagreb, where he continued his music education under the instruction of Xhevdet Sahatxhija. Later he entered Darko Petrinjak's class at the Music Academy in Zagreb and graduated from the program in 2008. He currently studies with Manuel Barrueco at "Peabody Conservatory" in Baltimore; USA. His first solo album was released that year under the "Naxos Records" label.
According to the "Peabody Institute" he performs regularly with symphony orchestras as well as in chamber music setting with various musicians.
Petrit has won first prize in "the All-Croatian Competition" in Dubrovnik in 2003 and in the international "Anna Amalia Guitar Competition" in Weimar. He has also won a lot of other prizes and awards, such as "Anna Amalia Competition for Young Guitarists" (Germany-2003), "Emilio Pujol Guitar Competition" (Italy-2004), "Andrés Segovia Competition" (Germany-2004), "the Gold Medal in the Parkening International Guitar Competition" (California, 2012) and other awards all around the world.
Besides the concerts, the "Open Guitar Festival" will also have lessons for the students and teachers of art and music schools. During the festival, the prominent guitarist Richard Wright will also give lessons.