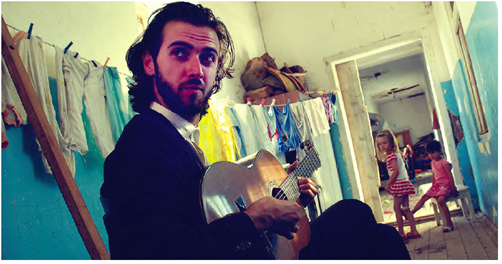 Petrit Çeku: From Prizren to Baltimore and Back
By: Kosovo Diaspora July 20, 2014
Petrit Çeku, a young musician from Prizren, an old city in south-western Kosovo, is currently studying classical guitar in Baltimore under the tutelage of the renowned musician Manuel Barrueco. Çeku says that the opportunity to hone his skills as a soloist at Baltimore's Peabody Conservatory is a boyhood dream come true.
"I still cannot believe that this is happening to me. To me, who owned every record ever made by Barrueco, down to the last," Çeku (aged 25) told Southeast Europe: People and Culture.
Çeku previously studied classical guitar with Leo Brouwer, Zoran Dukić, Carlo Marchione, Ehat Musce, Scott Tennat and Ana Vidović. A year ago, he attended Strings Only, a summer school for string instruments in the Croatian town of Zadar, taught by cello teacher Valter Despalj. Çeku left his hometown of Prizren to continue his musical education at the Zagreb Music Academy in Croatia. He graduated in 2008 after having studied under Darko Petrinjak.
"I picked Zagreb, because it is a great place for guitar players. A number of contemporary world class guitar players come from the Zagreb school. My father was a guitar player, and I began playing the instant that my fingers were long enough to reach the strings," Çeku says.
Çeku is the recipient of numerous awards including first prize in the All-Croatian Competition in Dubrovnik in 2003, and the Anna Amalia Competition for Young Guitarists in Weimar, Germany. The year after that, he came in first in the Emilio Pujol guitar competition in Sassari, Italy, as well as the Andres Segovia in Velbert, Germany.
Also in 2004, Çeku represented Croatia in the European Music Prize for Youth in Dubrovnik, where he also took first prize. In addition to that, he holds The Silver Medal which he won at the The Parkening International Guitar Competition in Malibu, California and second prize from Printemps de la guitare in Charleroi. Naxos, a classical music label, recently published Çeku's debut CD, describing him as "one of the leading guitarists of the younger generation".
Petrit Çeku, Isaac Albeniz: Malaguena
[youtube http://www.youtube.com/watch?v=FWS27tanaOo?feature=player_detailpage&w=640&h=360]
Çeku often meets up with fellow musicians from the former Yugoslavia. He says that, in addition to Croatia, there are many good musicians in Bosnia and Herzegovina, Serbia and the former Yugoslav republic of Macedonia. Çeku holds artists from Kosovo and the festivals held there each year in especially high esteem:
"The ReMusica, Dam Fest, the festival of chamber music are all great and I have already made several appearances there. Kosovo has many quality musicians and people with good taste in music too."
This summer, Çeku held his first concert in his home town within the Summer Urban Festival on July 10. This was a chance to meet him in his house in Prizren's district of Baždarana, where his mother welcomes guests in the traditional local way, offering them tea followed by coffee.
After specialization in the United States, Çeku says that his plans are to return to Europe, to continue working and holding concerts there, adding that he also intends to visit Kosovo at least three times a year, because of his emotional attachment to Prizren, where his family and relatives reside.
Petrit Çeku, Winner of 2007 Pittaluga Allessandria Competition
[youtube http://www.youtube.com/watch?v=L7EJbEws9yM?feature=player_detailpage&w=640&h=360]
****
Source:  Refki Alija. "Petrit Çeku: From Prizren to Baltimore and Back." Southeast Europe: People and Culture. August 17, 2010. http://www.southeast-europe.eu/?id=1437