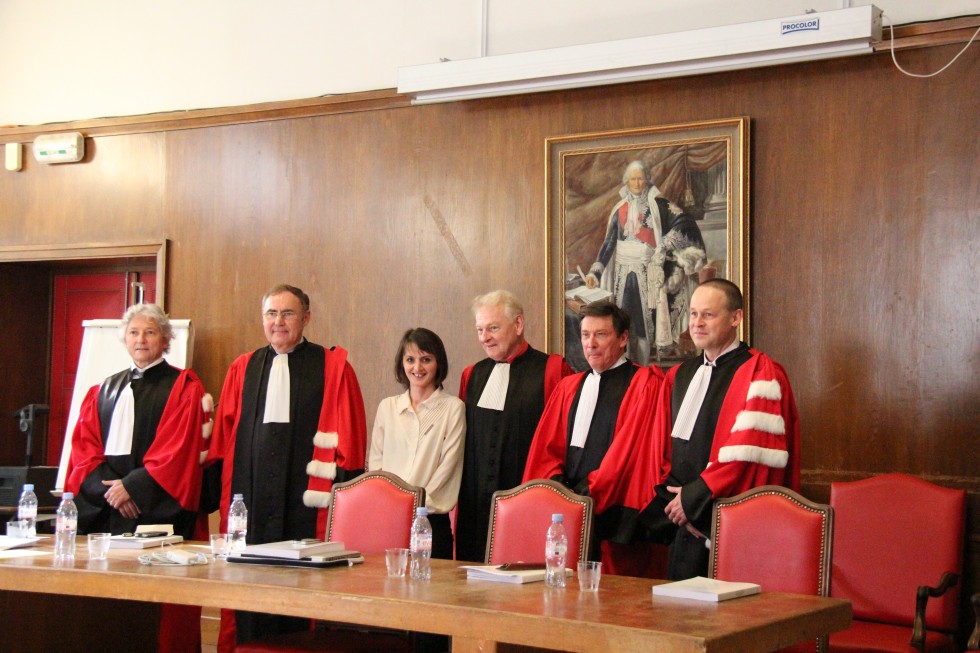 Patricia Rrapi: A Law Professor in Paris
By: Albana Rama February 21, 2014
The academia world presents Patricia Rrapi; an associate professor at Paris Ouest Naterre La Défense University. Patricia's story is a touching one as she left Kosovo during the 1999 conflict and migrated to France as a refugee. While in France, Patricia studied Law and was honored with her Bachelor degree in 2005. The Kosovar scholar was driven by her interests in law and thus aimed to advance her academic skills and accomplishments by receiving a Master's degree in History of Law and Public Law.
For the successful law professor, Rrapi, her career began in Xhevded Doda high school in Prishtina. However, due to the 1999 conflict in Kosovo, Patricia was unable to finish her studies there. The Kosovar intellect went to France with her family were she learned French and was able to graduate high school in Avignon in 2002.
The same year, Patricia, started her Law studies in Aix-en-Provence were she later received her Bachelor's degree. In 2006, Patricia received her first Master's degree in History in Law. The ambitious scholar was valedictorian, standing for the best student of the year in history in law and awarded with the History of Law Prize. In 2007, Patricia also finished her second Master's degree in Public Law. Once again, Rrapi, graduated as a valedictorian and received an award in the Public Law Prize.
The story of the successful scholar does not end here. Patricia's ambitions led her in pursuing and starting a  PhD program in September 2007. While in her PhD studies, Patricia was  awarded the Allocation de recherches award, making her a teaching fellow at Aix-Marseille University, for three years (2007-2010). The research award is a full scholarship provided by the French Ministry of education and the Montitorat de l'enseignement supérieur. During her studies, Patricia was also a Fellow of the Louis-Favoreu Institut – Center of Constitutional Law (Groupe d'Études et de Recherches sur la Justice Constitutionnelle – GERJC), (CNRS, UMR 6201) at Aix-Marseille University.
In 2009, Patricia traveled to Los Angeles where she was received as a visiting scholar at Loyola Law School. While continuing her PhD studies, Patricia, was also an Attaché temporaire de l'enseignement supérieur, a teaching assistant at Paris Ouest Nanterre University, during 2010-2012. In November 2012, the dedicated Kosovar defended her thesis and was awarded with a Doctorate degree. After successfully completing her studies, Patrica decided to apply for a position of Maître de conférences (MCF, Associate Professor). The hiring process was an extremely long process were the employers of the National Council of Universities (CNU) consist of elected and appointed MCFs and Full Professors. Despite the long hiring process, in February 2013, the CNU accepted Patricia's application. Patricia is currently an Associate Professor at Paris Ouest Naterre La Défense and works for the Centre de théorie et analyse du droit (CNRS, UMR, 7074). Patricia has taught since 2007 in several disciplines: Constitutional Law, Administrative Law, European and International Human Rights Law, Procedural Rights Law, Public Founds Law, among other subjects.
Rrapi's PhD thesis deals with the "Quality of Law Doctrine" under the French Constitutional Law. In her thesis she defends a new approach of the subject emphasizing theoretical and practical weaknesses of the actual French doctrine. Her thesis further includes a comparative study with the American Supreme Court's Doctrine called "Vagueness Doctrine".
Her thesis was awarded by several prizes:
The Aix-Marseille University First Thesis Prize, which stands for the best thesis in all Law school disciplines.
The Assamblée Nationale (French First Chamber of Parliament) Special Thesis Prize.
In April 2014 her thesis will be published at the prestigious French Law Editor Dalloz since she was also awarded the Dalloz Thesis Prize.
Most recent publications by Patricia Rrapi include:
"De la simplification du droit devant le Conseil constitutionnel" Revue Française De Droit Constitutionnel, n° 91, 2012, pp. 571-572.
"Quid de l'unité matérielle de la loi?" Revue Française De Droit Constitutionnel, n° 89, 2012, pp. 105-109.
"Critères objectifs de concretisation d'un droit et critères objectifs d'application d'une loi", Revue Française De Droit Constitutionnel, n° 89, 2012, pp. 119-122.
"L'incompétence négative dans la QPC: de la double négation à la double incomprehension", Cahiers Du Conseil Constitutionnel, n° 34, 2012, pp. 163-171