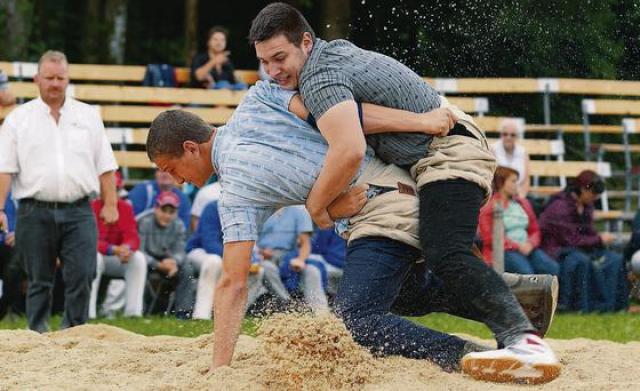 Naim Fejza brings a fresh challenge for the Swiss wrestlers
By: Valon Xoxa August 11, 2014
Naim Fejza is  Apenzell's twice in a row cantonal champion at "Schwingen"- the Swiss traditional wrestling. Fejza is originally from Peja,  thus makes Shwingen an internationally renown sport now, he became a hot topic throughout Swiss media in 2012 through winning Apenzell's cantonal championship title.
It is interesting to note that only 1% of the Shwingen  professional athletes have an international background, in other words, 99% of the Shwingers are Swiss. While Naim was born in Switzerland, his ethnic background and his family's country of origin did make him an interesting pick in the team. His passion for sport does not end with only Shwingen, he is a former judo wrestler and is currently also engaged as a goalkeeper at the BSG Vordeland handball team.
What makes "hwingen his favorite activity is the manly roughness during the wrestling matches that end with a friendly handshake. 
Watch Naim Fejza wrestle and let us know of your favorite diaspora sportsman.
Article Source http://www.albinfo.ch/sq/integrimi/naimi-konkurrenc-zviceran-ve-n-sportin-e-tyre-tradiconal