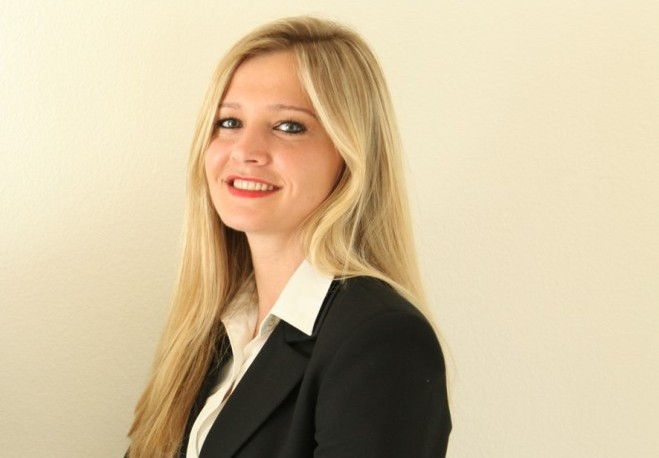 Miranda Ademaj: A Fearless Dreamer and Financier
By: Alban Pruthi June 13, 2014
A former immigrant, fashion model, and adventurous world backpack traveler, Miranda Ademaj is making her mark as a global financier operating from Switzerland.
Born in a southern town of Kosovo, Shtime, prior to the reign of the infamous Milosevic and his henchmen, Miranda ended up with an eventful yet dangerous childhood.  Faced with uncertainty and seeking a better and safer life, Miranda's parents illegally escaped to Germany when she was only 10 years old.  All left behind, Ademaj family started from scratch. Miranda had to learn a new language, make new friends, and adapt to a new culture in her new and safe home in Germany.
Later on, the sluggish German economy drove Miranda to Switzerland where she studied and worked with financial companies, including BrunnerInvest AG, Sallfort Privatbank, and Credit Suisse. During this time, Miranda found some time for modelling, which allowed her to envision her life in various roles.
In spite of the hard won successes, Miranda felt she was missing out on something very important – her [lost] youth. Upon realizing the toll of her achievements, Miranda let go of her existing world built in three different places and cultures—Kosovo, Germany, and Switzerland— and with a tiny suitcase embarked on a life changing experience as a backpack traveler around the world for a year.  These blissful voyages offered her a great opportunity to learn more about others while nurturing and strengthening her dream to become a CEO of an investment company.
Drawing from her vast financial experiences and connections, endless drive, ambition and self-discovery, in 2013 Miranda brought to life a multi-million USD hedge investment fund Skënderbeg Alternative Investments AG, where she serves as the CEO and Chairwoman. The company draws its name and mission from Albanian freedom fighter Gjergj Kastrioti Skënderbeg, based on the following attributes: Independence, Dedication, and Superiority.
While Miranda continues to make her mark as a global financier, she will serve as a great inspiration to many other women around the world, who are eager to unleash their potential and fearlessly chase their dreams. To learn more about Miranda please see her speech about "The multiple faces of uncertainty" at TEDxTirana event entitled "Blissful Uncertainty?!"