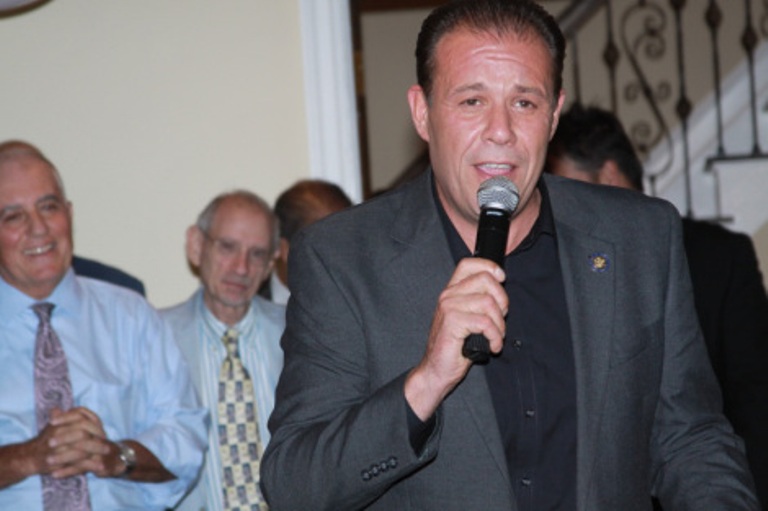 Mark Gjonaj, the first Albanian-American Assemblyman in New York
By: Liza Gashi August 7, 2013
On Thursday, August 1, 2013, New York 80th District Assemblyman Mark Gjonaj held a fundraiser to kick off his 2014 reelection campaign. The event drew dozens of his supporters, from friends and relatives to fellow New York politicians. The event was held at the Light House Restaurant located on City Island, in the Bronx. 
Gjonaj is the son of two Albanian immigrants, who was born and raised in the Bronx, devoting a large portion of his life to community activities, as well as helping the Albanian-American community throughout New York City. He assumed office in the New York State Assembly on January 1, 2013, bringing with him his experiences as a practical and hard-working small business owner in the Bronx neighborhood. In his few months as 80th District Assemblyman, Gjonaj has helped the state make great strides in the fields of long term health care insurance coverage, citizenship and immigration services, education, and civic service.
During his campaign, the Assemblyman will be continuing all planned events in the 80th District. He issued the following statement to his supporters on Facebook: I would like to thank you all for your support at my fundraiser last night. After all, an elected official is nothing without the support of the community. I am delighted to share in the following posts, our planned events for the month of August!
In the next few months, Gjonaj has a few events for Bronx residents to look forward to. On Thursday, August 8, he and fellow Assemblyman Michael Benedetto will be welcoming the area's senior citizens for a picnic. On August 18, he is hosting an International Family Day to celebrate the many cultures found in New York City. Many other events are in the works with his endorsement, both to celebrate his beloved 80th District and to help spread awareness about his upcoming reelection.
Click here to read more about his successes at Illyriapress. To learn more about Mark Gjonaj and his policy platforms, visit his New York State Assembly page or his Facebook page.