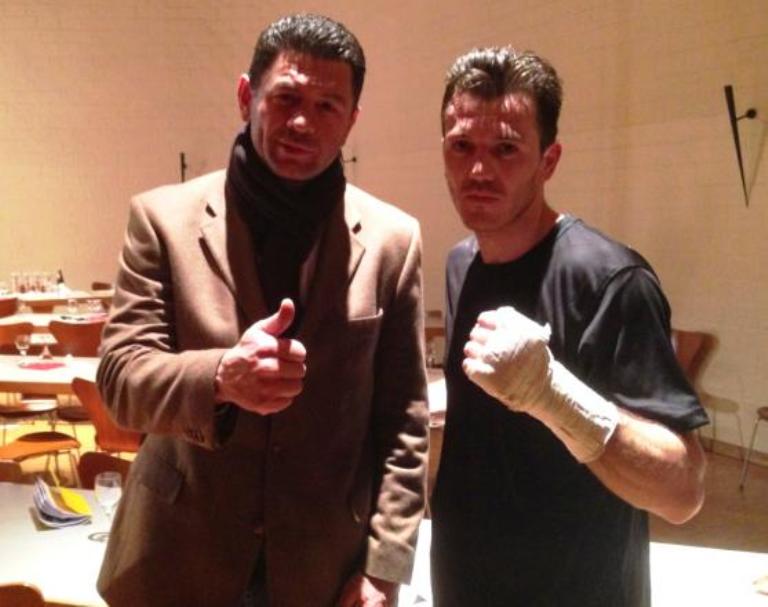 Luan Krasniqi urges diaspora youth integration
By: Valon Xoxa March 19, 2014
Luan Krasniqi urges diaspora to make education the main priority for the youth. Luan Krasniqi was present at a boxing night in Winterthur where Albanian rising young boxers shone throughout the matches. Said Xhemaili, Ylber Tahiri and Ardian Krasniqi were competitors within the amateur category.
The main event that evening had been the fight between middle weight boxers Butrint Rama and Achilles Szabo from Hungary. Rama came out victorious with a regular point based win.
Krasniqi had decided to see the young and rising Rama since there have been signs of a promising career. "We are very proud with him, he his disciplined and talented. I am confident that he will soon be conquering stages in Germany and Europe." said Krasniqi.
The boxing legend, Luan Krasniqi had been quite active throughout various humanitarian and integration promotion events. He had been visiting schools and discussed with the young there on his upward career struggle from the diaspora community to world fame. He emphasized on the social mobility that the German society offers for these youngsters. "I think that being raised in Germany and not speaking German is absurd. Integration is key and knowing the local language is the first step towards it. I had been relatively grown when I had moved to Germany (16 years old). I had finished school here and had managed to learn the language. Thus, I owe much of my success to my integration here. "
"Educating our youth should be our priority, I feel refreshed and happy when I hear and meet our young people who complete their education in universities here in Germany or anywhere else abroad" continued Krasniqi.
The original article was posted at Albinfo.ch Click here to read the original article