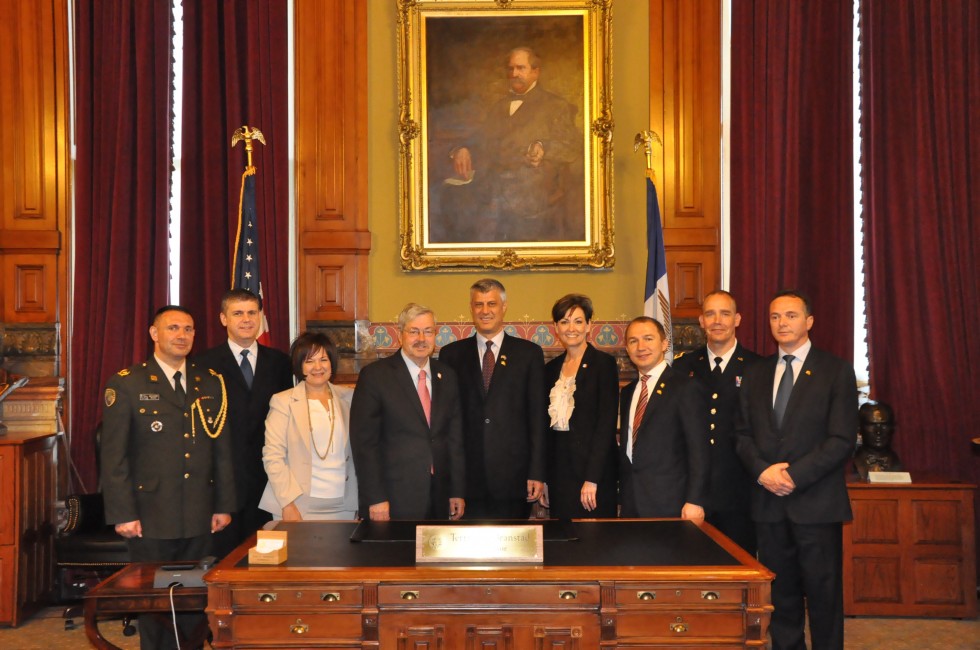 Kosovo forms a new internatinonal partnership: becomes a sister-state with Iowa
By: Liza Gashi July 16, 2013
The Governor of Iowa, Terry Branstand hosted a Kosovo delegation led by Prime Minister Thaci on  Thursday, 13 June 2013. They formalized the sister-state partnership program which commenced back in March 2011. The relationship between Iowa and Kosovo dates back to in 2003 ,when 700 Iowa National Guard soldiers served as part of the NATO peacekeeping mission in Kosovo. This partnership is a step forward for the newborn country of Kosovo, which is building its international partnerships and mutual cooperation. The Governor is expected to travel to Kosovo during his European trip in July 2013. 
The article was written by Rod Boshart for WCF Courier. Click here for original article.
DES MOINES — Gov. Terry Branstad announced Thursday that Iowa will form a sister state relationship with the Republic of Kosovo.
During a Statehouse meeting with Hashim Thaçi, the prime minister of Kosovo, Branstad also announced the he plans to travel to Kosovo in early July to officially sign the sister state agreement – which will be Iowa's ninth sister state arrangement.
The Iowa governor said he also will participate in events and business meetings in the Veneto region of Italy, which currently is an Iowa sister state, and he will pursue business leads arranged by the Iowa Economic Development Authority in Germany and Switzerland as part of his trade mission.
"Many Iowans have served with peacekeeping efforts in Kosovo and it is very fitting for Iowa to form an official sister state and enhance our partnerships in the areas of agriculture, economic development, public health and education" Branstad said in a statement.
"The focus of our trip to Kosovo and the European region will be to foster Iowa's sister-state partnerships and promote Iowa's exports, while exploring options for companies interested in building facilities here in our state," he added.
During their meeting, Branstad and Thaçi discussed an Iowa-Kosovo partnership, which began informally through the more than 700 Iowa National Guard soldiers who have served on peacekeeping missions there since 2003 that has evolved into a formal relationship through the State Partnership Program (SPP) commenced in March 2011.
For more information on Iowa's sister state program, visit: http://www.iowasisterstates.org
****
For more on the partnership, see Des Moines Registrar coverage of the story.