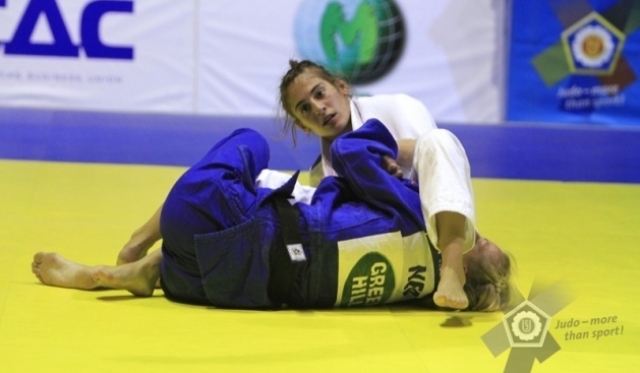 Kosovo comes out with two medals: Judoka Majlinda Kelmendi wins gold and Nora Gjakova wins bronze in Abu Dhabi Grand Prix
By: Kosovo Diaspora October 17, 2012
Kosovo judoka Majlinda Kelmendi  won Gold in the Abu Dhabi World Judo Grand Prix 2012 title in the 52 kg category. She defeated Brazil's Erika Miranda in the final. Kosovo came out of the event with two medals, a bronze won by Nora Gjakova in the 57 kg category. 
Kelmendi, the 21 year old fought a measured and careful final contest defeating Brazil's Erika Miranda to take the gold medal. She had earlier thrown Cammi Kaichi (USA) and then Ilse Heylen (BEL) in the semi-final both with uchi mata for ippon. Never under any real pressure throughout the day, Kelmendi looked comfortable and confident as she continued her medal winning ways since her surprise defeat at the hands of Christianne Legentil (MRI) in London during the Olympic Games.
The other judoka from Kosovo, Nora Gjakova won the bronze medal in 57 kg category,  to  complete Kosovar succes in Abu Dhabi.
***
Article was taken by the Official International Judo Federation Website at: http://www.ijf.org/ and http://www.euronews.com/2012/10/12/abu-dhabi-grand-prix/