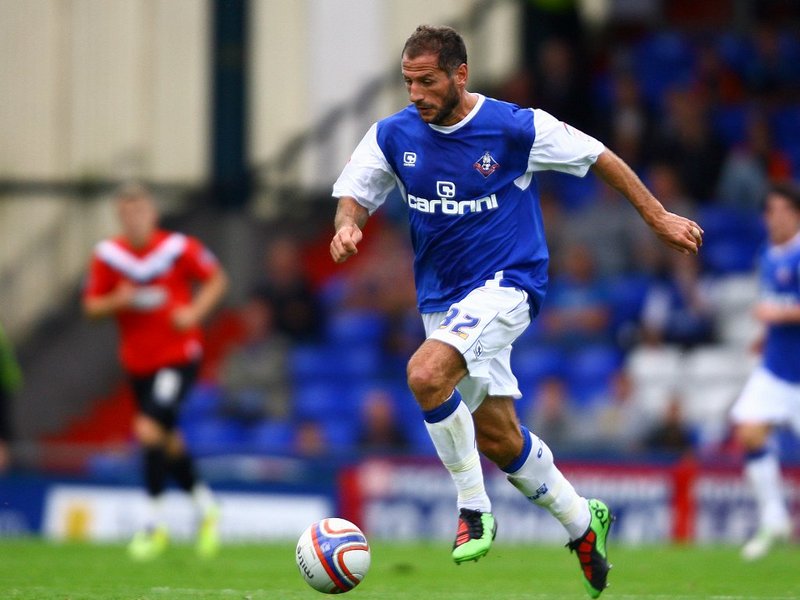 Kosovo-born signing Shefki Kuqi aims to make use of experience at Hibs – Scottish League
By: Kosovo Diaspora August 22, 2012
Article taken from Scotsman.com
Shefki Kuqi knows the day will come when he's finally forced to call it quits and hang up his boots. But even at 35-years-old, the much-travelled 
Finnish veteran believes that day remains some way off.
The eighth summer 
signing for Hibs boss Pat 
Fenlon, Kuqi knows full well the question of his age won't be long in coming, but as far as he is concerned it's not an issue. In fact, he's confident he could still be pulling on a shirt long after this season draws to a close.
Admitting he's perhaps a couple of weeks away from feeling as sharp as he would like, the 6ft 2in hitman 
nonetheless insists he's more than ready to play his part in the Easter Road outfit's hoped-for revival.
The statistics would appear to support his stance, almost 50 matches played for League One outfit Oldham Athletic last season, taking his career total to more than 500 – and counting.
In his first interview since clinching a one-year deal with Hibs, Kuqi said: "I feel strong, I have been lucky in that I have never really missed games throughout my career with injury. How long I have left I do not know, another year, two or three or whatever. To me it is important I wake up in the morning, feel good and want to go training.
"I've said that as soon as I get up in the morning and feel I do not really fancy it then I will pack in. But as long as I feel as I do at the moment, fit and strong, I will carry on. Oldham had played three or four games last season before I went there but after that I never missed a game. You can say whatever you want about me at 35 but there were 
players there at 25 who didn't play half the games I played.
"Football, like everything else is changing. For 
example, 20 years ago if you were 30 you were in the last year of your career. Now everyone looks after themselves, you see players like Ryan Giggs, 37 or 38, playing with one of the top teams in the 
world and he has been 
doing that year after year after year.
"It depends on how well you look after yourself. Of course people ask your age, but you get your own feeling and as long as I do not let my 
team down, that's important."
Hibs are Kuqi's 15th club in a career which began in his adopted homeland of Finland and continued in England for the past 12 years following a move to Stockport, the Kosovo-born star able to list the likes of Sheffield 
Wednesday, Ipswich Town, Blackburn Rovers, Crystal Palace, Fulham, Swansea City and Newcastle United on a highly impressive CV.
Again he is aware such a turnover in clubs may raise eyebrows but he revealed: "It's been a long journey but I've had a good career in England, having been here since 2000. Twelve years is a long time, I've enjoyed most of it. Sometimes I've had hard times, but that's part of the game.
"However, I am the type of person who doesn't want to be paid just to sit on the bench and not care about the team. I have always put the team in front of myself and I have had to move on because I'm not happy to be paid and see 
out my contract. I want to 
play football, it is a short 
career."
There's little doubt Fenlon sprang something of a surprise in the capture of Kuqi, who follows countrymen Mixu Paatelainen, Jarkko Wiss and Jonatan Johanson in playing for Hibs, but having not particularly enjoyed his spell at Boundary Park, he's excited at once again playing top-flight football.
He said: "I've played for a lot of big clubs and when you play in the Premier League or the First [top] Division in any country it is a bit different. I came up last Saturday and had a look at the training ground and on the Sunday I watched the derby with Hearts. I didn't think there was much between the two clubs. Everyone has their own opinion and I felt that if either team deserved to win it was Hibs, especially the first half.
"I saw some good signs in the team, I'd spoken to the manager – I like to be 
honest with people and I got 
that impression from him – and so it was quite an easy decision to make in the end."
Kuqi got his first taste of the SPL as Hibs ran out 2-1 winners against St Mirren at the weekend and, again, he was suitably impressed by his newteam-mates. He said: "We thoroughly deserved the game and should have been three or four up at half-time. We did really well away from home, played some good stuff. It takes time, people forget we are so young and have so many new faces while the manager wants to get his ideas and the way he wants to play over."
Fenlon has already gone on record to say he expects Kuqi to bring his vast experience to bear on youngsters such as Ross Caldwell and Danny Handling, while pointing out his current front pairing of Leigh Griffiths and Danny Handling are hardly anywhere near the vintage end of their careers. But while more than willing to help in that regard, Kuqi insisted producing what's 
expected on matchday 
remains his over-riding 
concern. He said: "Of course the manager has brought me here for a reason. I think I still have plenty to offer in attack, that I can help the team by scoring goals.
"There's no use me coming here and not doing the job. I have to do that first and hopefully things will go the way I want them to go. I have been honest with the manager and told him I think I need a week or two of good training to get in the rhythm. I have a big job in front of me, that's why I was brought here. But the other side is I have played with some very good groups of players, played at the highest level, played international football and if anyone needs any help them I will be there to help them."
And Kuqi revealed he's 
already excited at the 
prospect of playing alongside hotshot Griffiths, saying: "Every time he gets the ball you think something is going to 
happen. Give him a chance in the box and he is a really good finisher.
"There's not too many 
left-footed players around but they always seem to have something in them, 
something extra or special."
****
Source: David Hardie (2o12). "Kosovo-born signing Shefki Kuqi aims to make use of experience at Hibs – Scottish League." August 21, 2012.
http://www.scotsman.com/edinburgh-evening-news/football/hibs/kosovo-born-signing-shefki-kuqi-aims-to-make-use-of-experience-at-hibs-1-2479799