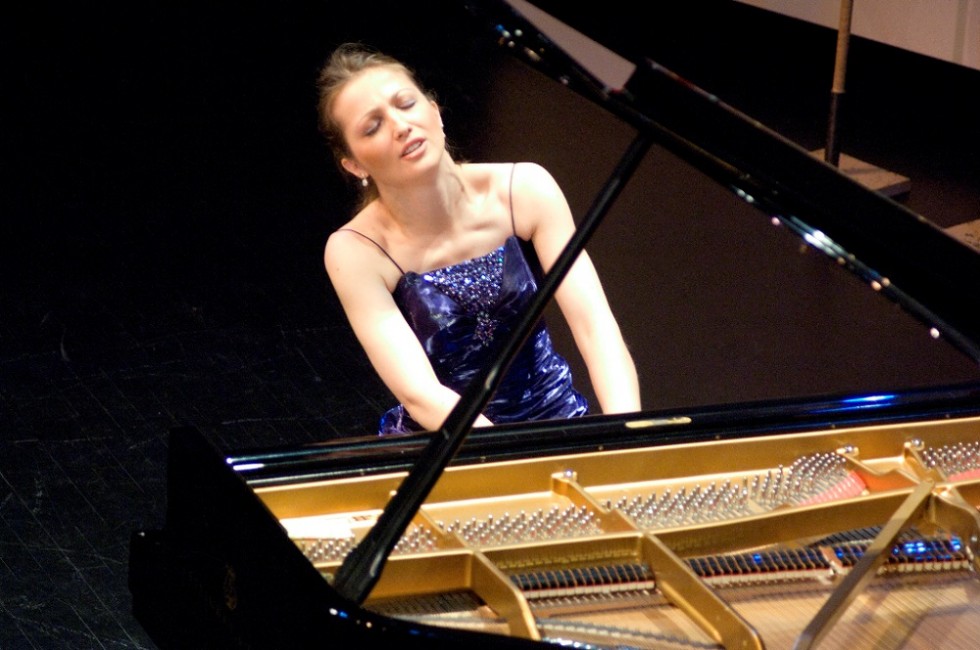 Kosovo-born pianist is taking over the world
By: Albana Rama October 15, 2013
The press calls her excellent pianist, sophisticated, explosive and a name to remember. Ardita Statovci makes Kosovars proud all around the world with her talent. The great pianist was born in Pristina 1982 and it was there where it all started. Miss Statovci comes from an academic family with both her parents working as professors at the Pristina Albanian University. It is clear where she gets her academic and work ethic, by the age 15 she was admitted at the Mozarteum University and left Kosovo to pursue her dreams in Austria.
In 2007 the Kosovoborn pianist earned  her Master degree in Arts and was the best in her concert-class of Christoph Lieske. The sucess continued when she in 2009 got the opportunity to study at Indiana University with the legend himself, Menahem Pressler, who is known for his talent and as a founding member of the Beaux Arts Trio.
Today, the bright and shining star Ardita Statovci is in Italy where she is finishing her postgraduate studies with influentual people like Boris Petrushansky and Franco Scala.
Statovcis hard work has payed of as she is traveling throughout Europe showing her talents and making a name in countries such as England, Spain, Croatia, Austira, Switzerland, Kosovo etc where she has done outstanding performance as a soloist with different orchestras. The performances has contiued all the way to the US too, in both Utah and Vermont. This has lead to different brodcastings and radio recordings of her performances by Austrian channel, RTK and ORF/Ö1. Also, in 2008 she released her own CD with live recordings of her works on Beethoven etc.
During 2010 Statovci gave a great perfomance at the Konzerthaus Dortmund in Germany and recieved amazing critics. In october the same year, the Austrian Radio-Television Channel ORF recorded and broadcasted her performance at the Schloss Goldegg in Austria.
She has been awarded several times for her outstanding performance and her CV makes you blush. You can read the following on her biography from her website: "For her outstanding achievements as a young artist, Statovci was distinguished several times with scholarship and prizes from the Society for Music Theatre in Vienna, by the Austrian Federal Ministry for Education, Arts and Culture (bm:ukk), from "Internationale Mozarteum Stiftung" in Salzburg, Piano Academy Birmingham/England, Fohnstiftung, University Mozarteum/Salzburg, Land Salzburg as well as by the Austrian Federal Ministry of Science and Research (BMWF). She also was awarded and won prizes at Competitions like the Yehudi Menuhin Live Music Now in Salzburg, "Bösendorfer Prize" at the Mozarteum University, International Competition Rotaract in Spain, "Talent of Kosovo", International Ibla Competition in Italy etc."
When asked about how she is representing her home country in the Diaspora, Ardita Statovci says:
"In every city and country where I give concerts, I represent Kosovo as a concert pianist born in Prishtina. Beside the CV and being originally from Kosovo, I am active in promoting albanian culture wherever I go. So, almost in every piano recital, beside big famous composers, I choose to include in the program also piano works by Kosovar Composers. In this way the audiences from abroad get to know the composers and the beautiful albanian music."