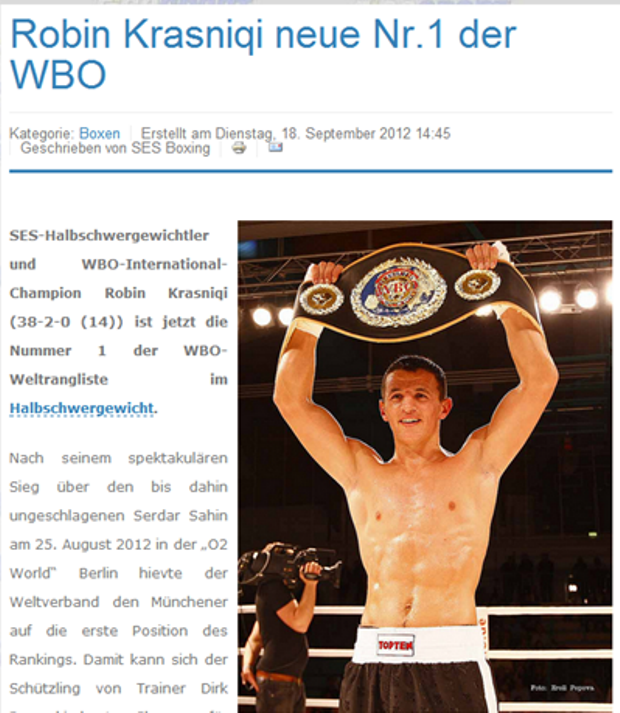 Kosovo born boxer Haxhi (Robin) Krasniqi, Nr. 1 in the WBO version
By: Kosovo Diaspora September 19, 2012
Kosovo born boxer Haxhi (Robin) Krasniqi, based in Germany, has reached the Nr. 1 spot in the World Boxing Organization (WBO) rankings for the light-weight version. This comes after his last victory over the undefeated Serdar Sahin on 25 August 2012 in the O2 Arena in Berlin, Germany. Haxhi (Robin) Krasniqi follows the footsteps of Luan Krasniqi, the first boxer of Kosovo origin to climb to the top level world professional boxing. What Luan Krasniqi did in the 1990's and 2000's, the Kosovo born Haxhi (Robin) Krasniqi is doing it today.
See article below in the German Version or click on the picture:
***
SES-Halbschwergewichtler und WBO-International-Champion Robin Krasniqi (38-2-0 (14)) ist jetzt die Nummer 1 der WBO-Weltrangliste imHalbschwergewicht.
Nach seinem spektakulären Sieg über den bis dahin ungeschlagenen Serdar Sahin am 25. August 2012 in der "O2 World" Berlin hievte der Weltverband den Münchener auf die erste Position des Rankings. Damit kann sich der Schützling von Trainer Dirk Dzemski beste Chancen für eine Herausforderung des amtierenden Champions Nathan Cleverly ausrechnen. Der Fighter vom Magdeburger Boxteam sollte bereits im April gegen den Weltmeister aus England antreten. Der Kampf wurde aus Krankheitsgründen des Titelträgers abgesagt. Jetzt rückt der WM-Fight für den 25-jährigen Krasniqi erneut in greifbare Nähe. Die WBO-Krone imHalbschwergewicht hat in Deutschland eine lange Tradition. Solch große Boxer wie "Tiger" Dariusz Michalczweski, Zsold Erdei und Jürgen Brähmer trugen den Titel in der jüngeren Vergangenheit. Robin Krasniqi: "Ich bin wahnsinnig stolz über die Ranglistenposition. Mein Ziel lautet jetzt: Ich hole den Gürtel zurück nach Deutschland!" 

Auch die SES-Profis Jan Zaveck und Francesco Pianeta sind in der Rangliste derWBO weiter nach oben geklettert. Ex-Weltmeister Jan Zaveck ist jetzt die Nummer 3 imWeltergewicht und Botha-Bezwinger Francesco Pianeta steht in der Königsklasse nun auf Rang Nummer 10.
***
Source: "Robign Krasniqi neue N. 1 der WBO". FigoSport. Sep 18, 2012. http://www.figosport.de/profiboxen/2642-robin-krasniqi-neue-nr-1-der-wbo.html