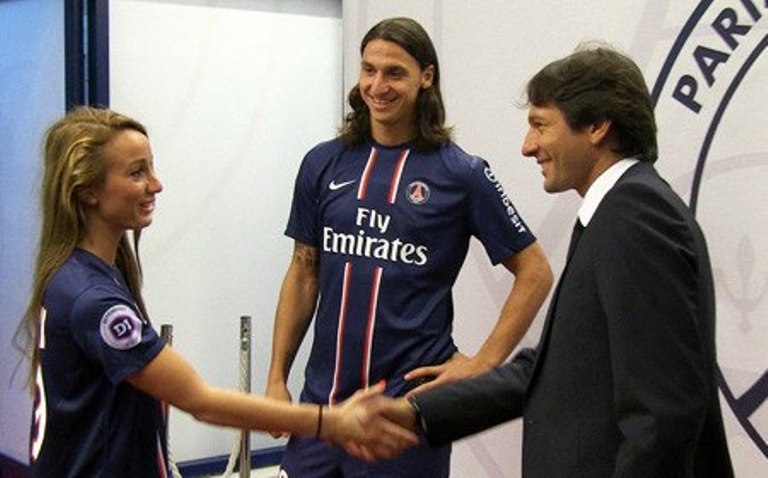 Kosovare Asllani: A promising football star for the Swedish National team
By: Kosovo Diaspora September 5, 2013
Kosovare "Kosse" Asllani debuted for the Swedish National team in 2008, as an 18 year old football player. She is considered one of the best strikers of Sweden. Asllani's career highlight was when she signed a two-years contract with the French team Paris Saint-German (PSG). Her debut season has been successful, and has already scored for the French team. Asllani is often compared to her countryman Zlatan Ibrahimovic, who also plays for the PSG. Her coach believes Asllani can become one of the best footballers in the world. Kosovare Asllani was born 1989 in Kristianstad in Sweden. Her parents moved to Sweden from Kosovo. 
Kosovare Asllani talks about her new life in Paris and as the newest addition to the football club Paris Saint-Germain. She has been there for a several months now, and says it feels good to be in Paris. There's a lot to take in for the football player and the French language is something she wants to learn as soon as possible. Though everything is new to her, she feels that the language is the biggest challenge. But when it comes to football, they all understand each other, it's the same "football language," says Asllani in her interview with svenskfotboll.se. Though, she is determined to learn French.
Kosovare Asllani has had a great start with PSG, and she claims that  it is good for her confidence. She wants to continue at the same level but argues that there is some things that she can improve in the game. Asllani is pleased with her goals so far and says it has to do with the training. She tells svenskfotboll.se that they are really hard at the training and get yelled at if the they miss a goal. Although she has not played very long for the team, Asllani has made sure to leave an imprint as she scored PSGs fastest goal ever. With 26 seconds Asllani beats Zlatan Ibrahimovic, who scored a goal in 27 seconds.
Kosovare Asllani is glad to be back with the swedish national team and train. She wants to keep a high level in her game and in the team. Asllani doesn't want to get comfortable, she only wants to improve her game and become a better football player.
Twitter Account:
La 1ère émission 100% Foot Féminin arrive sur EUROSPORT – VIDEO http://t.co/QNEqrVkJlT #F2F pic.twitter.com/fXGCwJvV2U

— Eurosport France (@EurosportFrance) September 16, 2014
See her video with svenskfotboll.se in Swedish


Some highlights of Kosovare Asllani and her skills