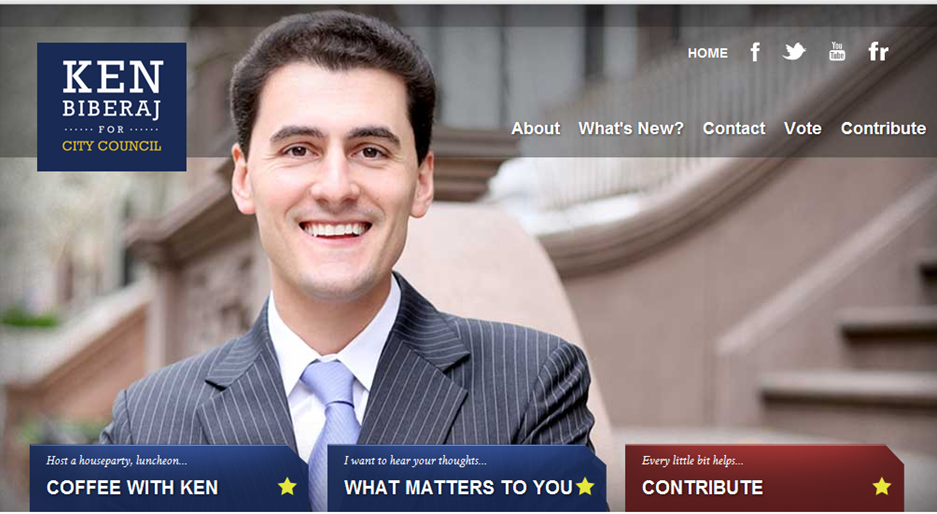 Ken Biberaj: candidate for New York City Council seat featured on Tomorrow's Leaders
By: Kosovo Diaspora August 27, 2012
Ken Biberaj featured on Tomorrow's Leaders on Capture the Flag, Blip TV. Biberaj speaks about his candidacy for the New York City Council.  The interview digs deeper into his potential as a leader and his upbringing; it brings out to light his origins from Kosovo and his visions for the city.  His interview consists of 21 edited chapters.
More information about Ken Biberaj's candidacy and biography can be found on http://www.ken2013.com/.

Who is Ken Beiberaj?
Ken Biberaj is a Democratic candidate running for the 6th District City Council seat in 2013.
Ken is a young, hardworking New York native with a head for business and heart for the Upper West Side.
He lives with his wife, Valerie, on the Upper West Side and works for a small, family-run business based on the West Side of Manhattan. Ken works to help small businesses find new retail space and helped reopen the iconic Russian Tea Room, which his family purchased and restored in 2006. He also sits on the board of a one-branch community bank, witnessing first hand the issues facing those affected by the financial crisis.
Ken was born in the Bronx, his family having immigrated to New York City in 1968 from Albania. His father learned English while working multiple jobs to support his family. Eventually, he earned a PhD from Columbia University, going on to work at Voice of America.
Inspired by his father's commitment to public service, Ken pursued an undergraduate degree from American University and a Master's in Public Policy from Harvard. Upon graduating, he worked for Senator John Kerry's 2004 presidential campaign. Ken then returned to NYC, joined the family business, and went to New York Law School at night, earning his JD in 2008.
Ken's life is not all business; he is also closely involved with several non-profits, including President Clinton's Millennium Network, the Culinary Council for the Food Bank for New York City, the Restaurant Committee for NYC & Company and serves as a mentor for New York Needs You.
With years of hard work and community service under his belt, Ken believes it is time for new ideas in city government.
This election is about the future of our neighborhood—and about new ideas. Ken Biberaj embodies the bold, energetic, vibrant leadership that is the signature of the Upper West Side.
***
Source: Capture the Flag, Blip TV at http://blip.tv/captureyourflag/how-father-inspires-son-to-pursue-public-service-career-ken-biberaj-6203699
Capture Your Flag interviews tomorrow's leaders today to provide a more approachable way early- to mid-career professionals can build aspirational careers. Interviews are edited into short segments by question and categorized by 100 common themes shaping leadership as well as by industry. Find more at www.captureyourflag.com.