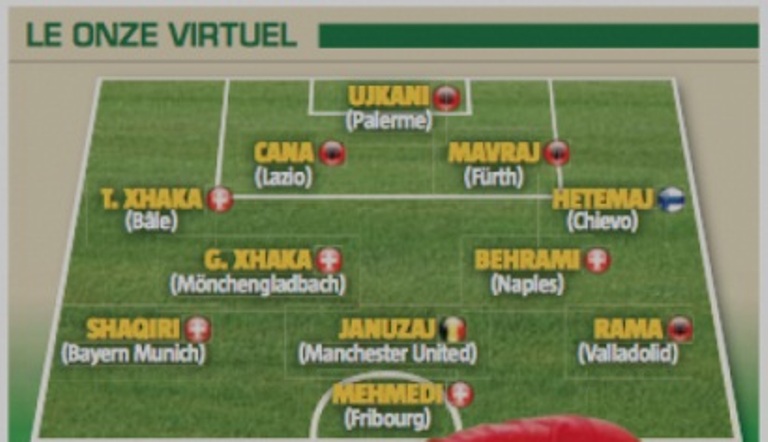 How Would the Kosovo 'Dream Team' Look Like
By: Kosovo Diaspora December 6, 2013
Do you you ever wonder how the Kosovo national football team would look like if the international governing bodies of football, FIFA and UEFA, would let it compete internationally? A Belgium online medium put together a list of 11 potential players that could make the starting line up. They are either citizens of Kosovo, or their parents were born here.
Unfortunately, FIFA nor UEFA have done little justice for the dreams of Kosovars to have a team respresnting them in the international football arena. Most of these players today feature for national teams of Albania, Switzerland, even Finland, Norway and Sweden.
Recently, Belgian media has created a 'dream team' of Kosovo football players which in the future could wear the yellow-and-blue shirts.
'Lameuse.be', has included the youngest Man United talent, Adnan Januzaj, who is also a future possible player for the Belgian national football team.
On this dream team list, Samir Ujkani is the goalkeeper while on the defensive sides are Lorik Canaj and Mergim Mayraj. Right wing and left wing of the future possible team are Taulant Xhaka and Perparim Hetemaj.
The formation 4-5-1 has included mid-fielders such as Granit Xhaka, Valon Behrami, Xherdan Shaqiri, Adnan Januzaj and Valdet Rama. As for the offensive side, its only Admi rMehmedi, currently a player for Freiburg. Mehmedi is originally from Macedonia therefore he wouldn't be able to play for Kosovo in the future, when our country will be recognized by UEFA or FIFA.
The original article was posted at Zeri.info  webpage. Click here to read the original article.