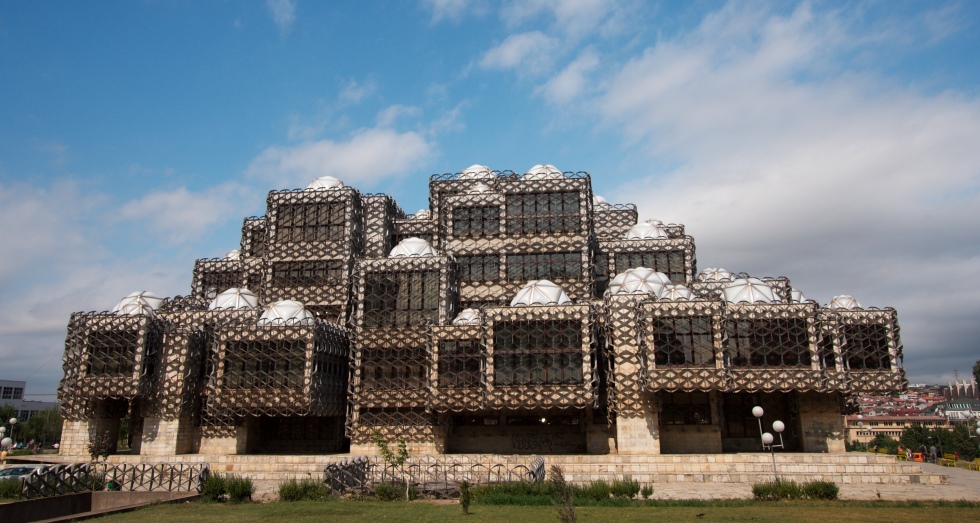 National Library of Kosovo in Harvard University
By: Kanarina Shehu February 12, 2015
On February 10, the Harvard University Graduate School of Design featured the National Library of Kosovo in a new exhibition entitled "Icons of Knowledge: Architecture and Symbolism in National Libraries."
Kosovalive360 news portal reports that the exhibition is curated by Harvard graduates Daniel Rauchwerger and Noam Dvir. Both Mr. Rauchwerger and Mr. Dvir created the exhibition after publishing their research in Harvard Design Magazine on the similarity of designs among national libraries. Accoring to Rauchwerger "these buildings are, after all, very dramatic and symbolic; they're palaces of knowledge and virtue."
The exhibition examines why national libraries are such symbolic icons of a nation, as well as why nations invest so many resources into constructing buildings that maintain their cultural legacy.
Opened in 1982 and designed by Croatian architect Andrija Mutnjaković, the National Library of Kosovo's controversial design is a source of architectural debate (the UK newspaper, The Telegraph, named it one of the world's 30 ugliest buildings). But the Library's combination of cubes and domes—the architect's attempt to join Islamic Ottoman and Orthodox Byzantine influences—gives it a unique appearance that has become a symbol of Pristina.
In defiance of the building's critics, the inclusion of the National Library of Kosovo in Harvard's exhibition stands testament to the building's symbolism and architectural value as a place of knowledge and cultural heritage – two values that should be remembered as Kosovo finds its own voice as a European nation state.
Originally contributed by James Evans, Communications Assistant at Harvard Graduate School of Design.