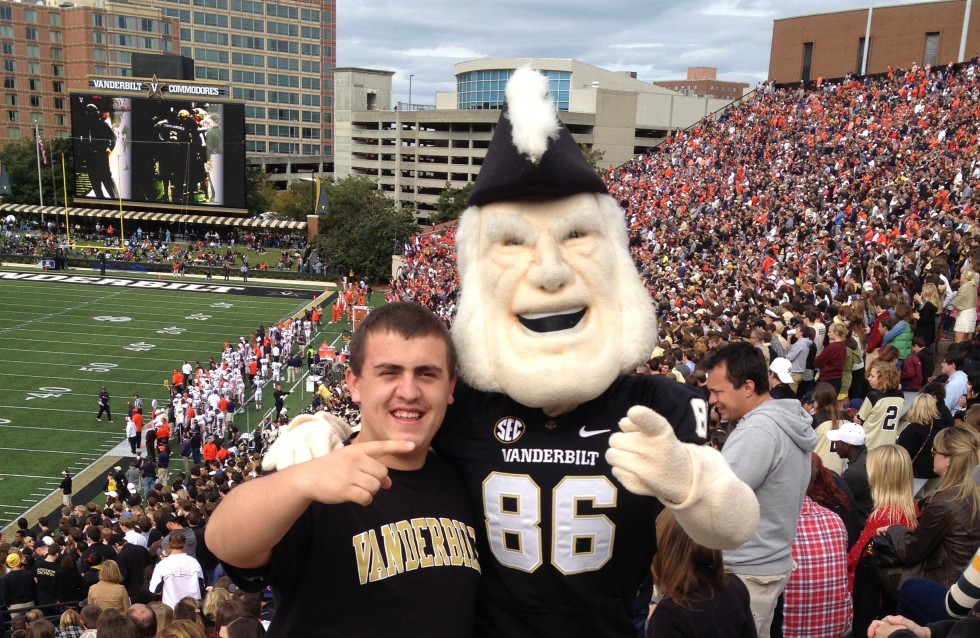 Gent Thaci lives the American dream
By: Albina Makolli December 1, 2012
"No double dipping!" Before leaving his hometown of Prishtina, Kosovo, foreign exchange student Gent Thaci, a junior, was given this memorable piece of advice about American culture. This little tidbit of American courtesy has become one of Thaci's favorite sayings in the two months he has spent in Huntsville. After moving to the city of Prishtina at the age of thirteen, Thaci became very interested in finding an exchange program that would allow him to spend a year in the United States. Though a bit apprehensive at the start of the process, even to the point of hiding his application from his parents, Thaci knew that he "wanted to live the American dream." With the help of the Kosovo Youth Exchange Program, Thaci is doing exactly that.
At this point you are probably wondering, where exactly is Kosovo? "So far, I have only met one person who knows where Kosovo is," commented Thaci. To keep it simple, he usually describes his native country as "somewhere between Greece and Italy." Kosovo is a relatively young nation, having only declared its independence in February of 2008. Due to this fact, Thaci is rather forgiving of most people's lapse of geographical knowledge.
Those who know him can tell that Thaci is a huge movie buff. Last year, Thaci worked his way through IMDB's list of top movies until he had seen almost 500 films! Through movies like Forrest Gump, Thaci developed a thoroughly cinematic vision of America. "I was excited about everything in America. I've always been a big fan of the United States and the U.S. way of life and I was excited to see if America was like it is in the movies," explained Thaci. When asked if his new home was living up to his expectations, Thaci replied, "so far, so good!"
Though he is new to America, Thaci is very involved back in Kosovo. Though he is only seventeen years old, Thaci has made connections with the technology community all around the world, boasting an impressive 1,378 followers on Twitter. "Everything started when I moved to Prishtina, the capitol of Kosovo," Thaci explained. He had been a technology enthusiast for many years, but at the age of fourteen, Thaci took action and joined Flossk, a non-profit organization promoting open-source software.
Soon after starting at Flossk, Thaci soon became the community manager, a position that gave him the opportunity to network with technology giants all across the globe. Thaci attributes his impressive English speaking skills to this experience. Through "emailing and Skyping" with his technology colleagues, Thaci learned to speak fluent English with very little formal training.
With such an obvious passion for the world of technology, it is no surprise that Thaci has come to love his daily classes at the Huntsville Center for Technology. Aside from making a new set of friends, Thaci loves the hands-on learning experience. From "building an R.C. rover" to studying a "thirty dollar computer," the technological offerings of Huntsville High have allowed Thaci a very rewarding learning experience in the United States.
After he returns home to Prishtina this summer, Thaci plans to begin studying to take the ACT. If all goes as planned, Thaci wishes to return to the United States to attend college. "This whole experience has been amazing. Sometimes I am in the swing of things and I don't realize what is around me. Then I stop and realize,'I'm in America!' and it's unbelievable!" Most of us only dream of living in our favorite movie, but for Gent Thaci, this dream has become a reality.
Gent's favorite things about America
Oreos
Mountain Dew
Little Rosies
Target
The Rave
Muscle Cars
*****
Originally published at: Huntsville High School The Red & Blue Newspaper