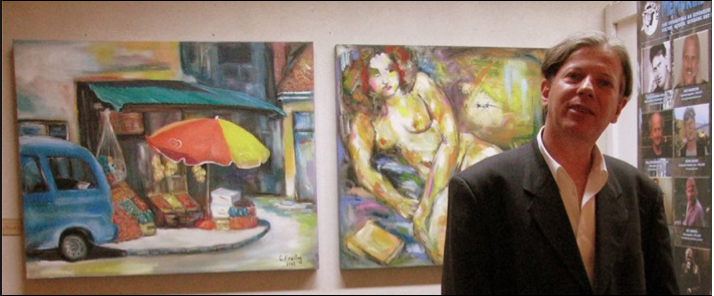 Gazmend Freitag, The Artistic Marvel
By: Kosovo Diaspora July 9, 2013
Gazmend Freitag, a Kosovo-born artist in Austria, has become a renowned name associated to art throughout Europe in the past twenty years. His most recent exhibit, Der Kunstraum, is currently showcased in Vienna.
Gazmend Freitag, a Kosovo Albanian residing in Austria, has  demonstrated vast artistic abilities for all of Europe for the past twenty years. He was born on May 25, 1968 in Kosovo. He originally set out to become a lawyer. However, political changes in the region put a halt on his law degree, and he traveled to Germany in 1990.
He quickly picked up his old childhood passion of art. His main talent is in graphic works, consisting of oil canvas paintings, pencil, ink, mixed media works, and portraiture. He became famous for his themes of femininity and beautiful landscapes. Over the years, many well-known artists throughout Europe, as well as realist painters in America have influenced him. He is an active member of a group of European artists called Palette Oberösterreich.
Mr. Freitag attributes much of his success as a Kosovo Albanian living abroad to his ability to learn languages. "I have learned German really fast, which is the reason why I feel really good and immersed in the culture and societies in Germany and Austria," he states. He believes that learning languages is the key to understanding different cultures, because it opens up a new horizon and allows for personal creativity in new settings.
In June 2013, Mr. Freitag opened a new exhibit in Vienna, Austria, titled Der Kunstraum, showcasing a large quantity of his work. To learn about the exhibit, please visit: http://rajonipress.com/shfleto-artikujt.php?id=11683.
To learn more about Mr. Freitag, his artistic methods, and where to find his work, please visit: http://www.gazmendfreitag.net/.