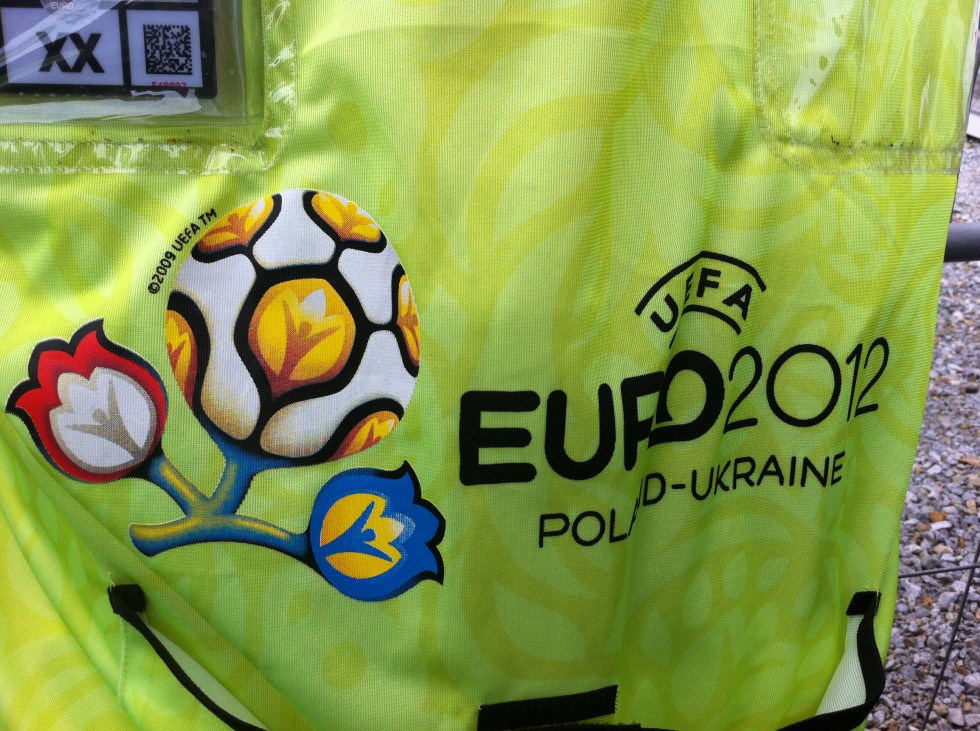 From India to Kosovo: A Bond Beyond Barriers
By: Kosovo Diaspora July 20, 2014
As the UEFA EURO 2012 championship was underway across the border in Poland, we met for the first time over a continental breakfast in a sunny café on the eastern border of Germany. Convened with the common objective of studying the phenomenon of identity and football, around 20 of us hailed from all corners of the globe. As I made the rounds of introductions, I met people from Armenia, Macedonia, Poland, the USA, Tajikistan, UK, etc. before finally interlocking hands with the last one – a young man from Kosovo.
"Kosovo." Somewhere it rang a bell.  I recognized the name but couldn't place it.  My body language transmitted the train of thought that my mouth hesitated to articulate, and the Kosovar helpfully offered, " Remember 1999? The conflict between the Serbian government and Albanian people?…"
Vague images of the conflict from my old tv set at home in India flashed through my mind as they had been portrayed over a decade ago. Over the next few days, as conversations flowed over coffee and wine, I silently absorbed the retelling events of the the Serbs and the Albanians, of refugee camps in Pristina, of fear, intimidation, identity, ethnicity, brutality and kindness; of kalashnikovs and rocket launchers and NATO and the UN; of power, and struggle. It was an unlikely bond in those three weeks; often the narratives of loss and pain sailed through my mind and I tried relating them to the countless similar narratives across several corners of my country…
Of course, these conversations were interwoven with our discussions of football. I learned how a game can be so intrinsic to identity formation, and the Balkan countries were quite the case study. Kosovo for example, has no national football team. It is not recognized by the United Nations as a country, therefore neither the UEFA or FIFA embrace it in the football family.  As a result, players originating from Kosovo such as Xherdan Shaqiri (Bayern Munich), Lorik Cana (Lazio), and Valon Behrami (Napoli), are scattered across the football scene, representing the national teams of Albania, Switzerland, Finland, and Sweden.
While my new friend from Kosovo and I came from disparate backgrounds, our mutual interests and comfortable conversations formed a quick and easy bond.  Through our study, we watched films and documentaries, and of course the Euro championship, shouting when a goal was cancelled by the referee. We partied til the wee hours of the morning and shared small excitements about a beautiful woman in the adjoining guest house. My friend spoke of his visit and work in Dhaka a year before, and the typical Bengali wedding that he attended. He spoke of the fields and rivers, the boat rides and the heavy traffic that were a part of his life while he was there.
Together we walked silently through the holocaust memorial in Berlin, ran through the town-square of Warsaw cheering, and tackled each other during our own football matches. We chose gifts for our friends back home and he invited me to the United States where he currently lives, and to Kosovo. Whereas we had met over a tranquil breakfast nearly a month before, our farewell convening took place against quite the opposite backdrop: we all rallied together in a tiny pub that was all but full, with "drinks-on-the-house" and a late Turkish dinner.
Since then I am always on the lookout for Kosovo, from Google news to Guardian articles, from football to foreign policy. A year has passed since and I have not been able to invite my friend to India, as my country still doesn't recognize Kosovo as a sovereign nation and thus doesn't grant a visa to any of its citizens. But I know we will meet soon and will relive a bonding beyond barriers. Until then we can channel Milan Kundera who said, " The struggle of man against power is the struggle of memory against forgetting."
Arindam Banerjee works as a Prime Minister's Fellow with the Ministry of Rural Development, Government of India..He works in the erstwhile Maoist insurgency-affected district of West Medinipur in the eastern state of West Bengal, supporting the District administration in micro planning, innovation and livelihood opportunities.While not working , he continues procrastinating about the numerous places he will visit someday…Banerjee loves writing about people, and places and hopes to play football with his international friends someday soon.