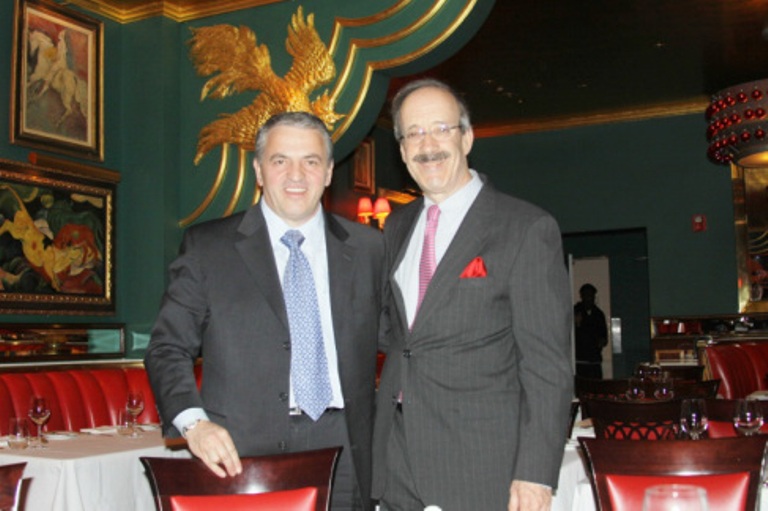 From a Kosova Soccer player to the streets of Manhattan on a Business Suit
By: Valon Xoxa September 8, 2013
From the little town of Klina, to the Big Apple, the story of Gjon Lleshaj is that of success. Just as the game of soccer is won through teamwork, his success story comprises of many friends helping forward.
Gjon Lleshaj is easily considered as one of the most important American Albanian business man, his construction company operates within the real-estate paradise of New York. He left the green field of soccer 20 years ago and started his own journey on fulfilling the American dream.
Ever since a youngster, Lleshaj , as well as all the other kids in Kosova, were inspired by the big game of soccer. His ambition and hard work gave him a place in the city's team "Malizhgan". It is the social-economic conditions that have forced Mr. Lleshaj to leave his passion for soccer and focus on a different route to success. He still reminisces of the great soccer games, his number 7 jersey and the goals scored throughout the league. The soccer career was about to give him a lifetime journey, an unexpected one.
It is when he received the recruit letter to the notorious Yugoslav army, did  he realize that he was set within a life crossroad. The Lleshaj family thought it best to follow the example of many Kosovar families and emigrate to the United States.
After a Sunday game of soccer Mr. Lleshaj and his colleague decided that it was time to leave, they hoped on the next train and left for Belgrade. It is there, at the last minute that his friend realized that he could not leave his mother, Mr. Lleshaj understood the weight of the decision, thus he continued the journey alone.
Once in the US, Gjon found an entry level job within an Italian Pizza place. It is here that his old game tricks would come to play, once introduced as a former soccer player, all the European immigrants knew they have found one of them. Gjon got accepted within the Brooklyn Italians soccer team and continued living his passionate dream.
The 80s have found Albanian-Americans as a scattered and not well organized group. However, as Gjon had noted, the Albanians have had a soccer team that he was facing in the green soccer field. Ever since, Gjon had switched from the Brooklyn Italians to the New York Albanians, again, his soccer passion had proven a great path finder for his future success. His "transfer" to the New York Albanians did not only create a long sought connection with other Albanians, it introduced him  to the construction industry, the industry he would later touch the heights of success in.
Sparks of Success 
For five years, Gjon worked alongside his new acquaintance and well known Albanian businessman and activist  Martin Shkreli, who at the same time, alongside other Albanians helped Gjon found his private business. Just like in the soccer field, team work proved essential for the successful career of Mr. Gjon.
What gave Gjon Lleshaj the winning edge compared to the others, is his strong interest and prior studies in Architecture. Thus, Mr. Lleshaj looks back at his journey through soccer games and architecture studies and realizes the long way and admits to it being worth. Currently his companys biggest success story  is the refurbishment of 12 banks alongside New York.
Mind and soul in Kosova
Mr. Lleshaj still feels his strong roots in Kosova. His father and four brothers still reside there.Mr. Gjon's multiple visits over a year help him restore the original image of the place. "I often visit Kosovo" he says while igniting a sense of melancholy and claims that one day he shall be back for good.
Mr. Lleshaj is well known in Kosovo for many of his investments and generous donations but he is rather modest and wishes not to talk of them. However, his well known donation is that of Mother Theresa statue in Klina.
While he does not play soccer anymore, he is still connected to the New York Albanians and continuously urges youngsters to engage in sports. "Sport keeps the young away from activities that affect morality and health. At sports, the kids are friends, they share moments together and will benefit much in life".
He is the witness to this statement.
The original article was posted at the Illyriapress webpage. Click here to read the original article.