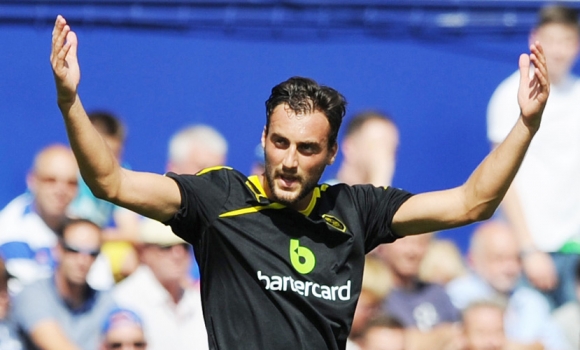 Football Dreams Come True for Atdhe Nuhiu
By: Liza Gashi August 5, 2013
Atdhe Nuhiu has signed a three-year deal with the Sheffield Wednesday F.C., one of the oldest premier professional football clubs in the world. 
The 6ft 6ins centre forward thinks he is suited to the English game and can carve out a successful career here after signing his three-year deal with the Sheffield Wednesday F.C. Owls. His opportunity might have come at Crystal Palace or another club in this country but he confirmed that he was attracted to Wednesday by the club's potential and the possibility of good times in the Championship and beyond.
"It was a dream for me to come to England," said the former Rapid Vienna striker. "It is also my type of football. It was a good step to come here; I'm still young – 23, 24 soon – and hungry for success.
"If I can do good things with this team, I will be more than happy." He was born in Pristina, Kosovo, but was only six months old when his family moved to Austria, where he has spent the rest of life apart from his loan stay last season at Turkish club Eskisehirspor.
His name has set fans here wondering about its pronunciation: it is 'Attie NOO-hee-oo', with the emphasis on the 'noo' in his surname.
He is an affable character and speaks good English, but his knowledge of the language and his aerial ability are not the only reasons why he thinks he is well suited to the English game.
"I am good in the air. But I can keep the ball for the team and use the other players. I can play football as well."
Beyond that he is reluctant to talk about himself, believing that his football should do the talking and that teamwork is all important: "I am not alone on the pitch."
Nuhiu is set to play some part in today's friendly at Chesterfield: "The manager says yes. We'll see for how long."
But he is still sharpening his fitness, and Jones will assess this before deciding whether he is ready to play next Saturday at QPR.
The striker, who will be 24 on Monday, admitted: "The manager wil decide but of course I think I need a bit of training with the fitness coach. It's never enough. You always have to work. We'll take the right decision. I will play at the right time."
After Nuhiu's trial at Palace, manager Ian Holloway has spoken well of him though he would not have gone straight into the Eagles' 25-man Premier squad: