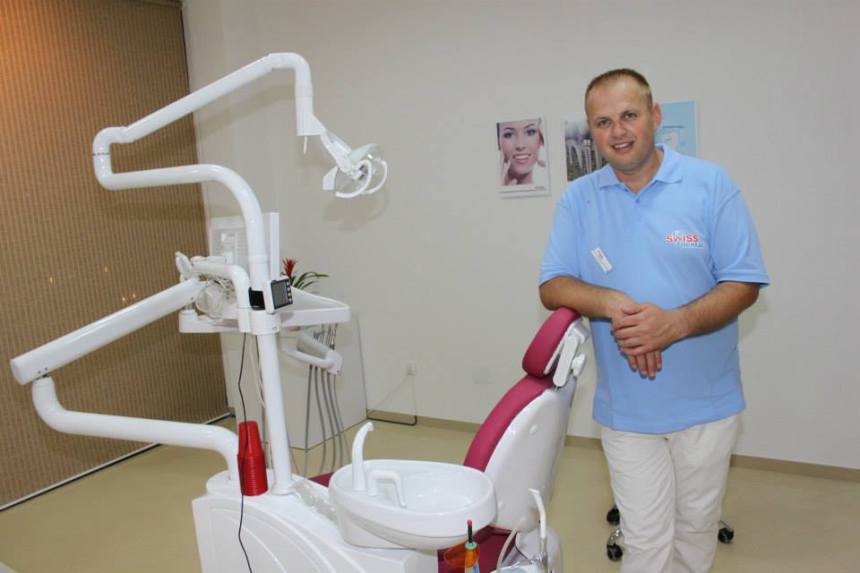 Enis Kamenica: From an Immigrant to an investitor in Kosovo's Health Care Services
By: Kosovo Diaspora July 16, 2013
Enis Kamenica, a 31 year-old immigrant for more than 15 years in Switzerland has decided  to return to invest and work in Kosovo's health care services. 
Enis Kamenica was educated in Switzerland and graduated as a dental technician. For a short time, he became successful, and opened two dental clinics, initially the first one in Lausanne and then in Geneva. With all the good conditions and revenues from these clinics, Enis always dreamed of opening a clinic in Kosovo. "I always dreamt of opening a business in Kosovo," he said. "We were forced to flee with my family during the regime but parents have educated us, and also reminded us never to forget where we came from."
Despite the difficulties, Enis began his journey with the opening of the first Swiss Dental clinic in the town of Ferizaj where he invested over 150,000 euros and employed about 10 workers. "Certainly there are some basic difficulties that we face here that one is not subject to in Switzerland" Enis says. "However, with a commitment and determination one can also make it here but I hope the conditions improve because the business friendly environment encourages more investors." Today, his clinic enjoys a highly respected reputation among the residents in Ferizaj and its success led Enis to increase his investments and open the second clinic in the same town. Today these two clinics employ over 25 people and it has the most up-to-date technology and European standards. This is a great example of success that Mr. Kamenica hopes to continue and is looking to expand its operations to other cities in Kosovo.
The story does not stop there. His creativity has aroused interest among many citizens where, with his desire to help the children of this city, Enis has begun to promote control services with a clinic-on-four-wheels. The owner in question has turned a mini-bus vehicle into a dental clinic and will now start to offer free dental checkup for all children in schools in the town of Ferizaj. This gives you the opportunity to move our services close to them. "I am a parent of three children and taking into account the terms and conditions of these kids, I believe that the prevention measures can help them improve their wellbeing in a long run."
Mr. Kamenica says that so far has offered free services to mentally challenged children and also a special care for war veterans and their families.  He hopes that this project will be extended to other institutions such as FSK, and other NGO's where everyone will have free access to perform free dental checkup. He believes that citizens did not have portable clinics earlier and he said that this idea also raises the level of awareness among parents that early care for children's teeth is a preventive measure that should not be overlooked and also helps in their overall health.
"I think this is a good start and the diaspora has tremendous potential and if there is more institutional support and better elementary conditions on the ground, there will also be an increase in investment "Enis said. Despite the everyday difficulties, there are encouraging success stories and Enis Kamenica  is a part of that successful journey.