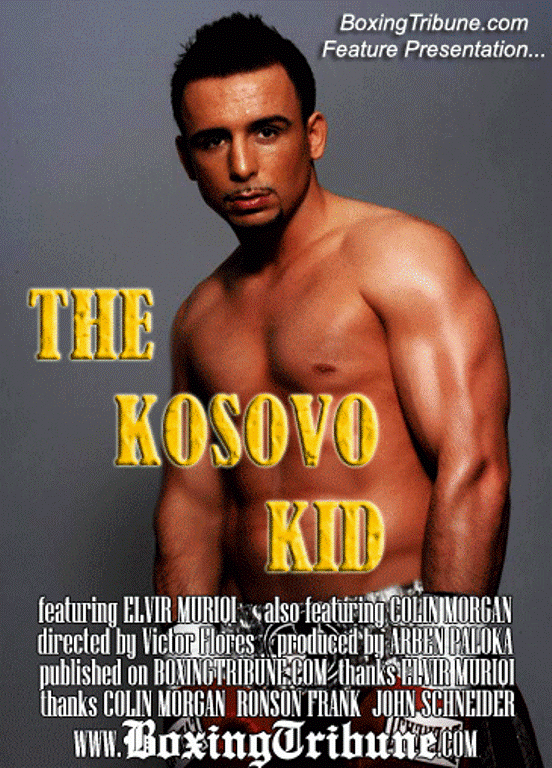 Elvir Muriqi: Kosovo-born boxer determined to win the World Championship title
By: Kosovo Diaspora November 27, 2013
By Ermira Babamusta
Boxer Elvir Muriqi, also known as "The Kosovo Kid" was born in Peja, Kosovo on April 1979. Then, he moved to New York in 1996 to be a professional boxer. His undeniable talent made him a hit from the beginning of his career, earning respect as the best-known boxer in America and in Europe. Elvir Muriqi has won several titles including the prestigious Intercontinental Championship at the New York Golden Gloves in 1998, NABC World Title in 2004 in Kosovo and American Title in 2009 in North Carolina for NABC (North American Boxing Championship). Muriqi has won the title as Best Top Ten in the World and aims to win the World Championship title.
Born on April 1979, in Peja, Kosovo,to Albanian parents Ramiz and Rabije Muriqi. Elvir Muriqi excelled in sports as a kid including karate, soccer, boxing, kickboxing, tennis and gymnastics. Elvir began boxing at age 9 for two years, then he started kickboxing at age 11 for five years. At age 17 he returned to his passion, boxing. Muriqi has dominated the ring for the past ten years and he proved his worth at an international level as one of the best boxers in the world. He has an outstanding record in boxing with 40 wins, 5 losses (revenged 2 losses) and 24 knockouts. Elvir has been preparing himself for the world title championship and is determined to reach his dream.
"I have always had a passion for sports. Everything I did, I had to be the best at it. Even in school I was the man since 6th grade. I grew up being a leader and everyone would listen to me, including my brothers and cousins." "Growing up I used to get in trouble a lot and would fight in the streets. I wanted to be known as the tough kid around. My dad was one of the toughest dads, I looked up to him. My dad send me to the gym. I did group sports like soccer. I was good at fighting that's why I stuck with it. When I started boxing, I saw the golden gloves and the world champion. I have so much passion for boxing and I said I will do whatever it takes to be the best," said Elvir Muriqi.
For the past ten years of his successful career, Elvir Muriqi has maintained the spot as the Best Top Ten Boxers in the world. So on January 31, 2014 Elvir Muriqi of New York will fight on the world stage against Hungarian boxer Zsolt Erdei in a ten round fight as the main event of the Super Brawl for the light heavyweight category. The big fight will be featured on ESPN, Friday Night Fights and is taking place at the Richard Codey Arena in New Jersey.