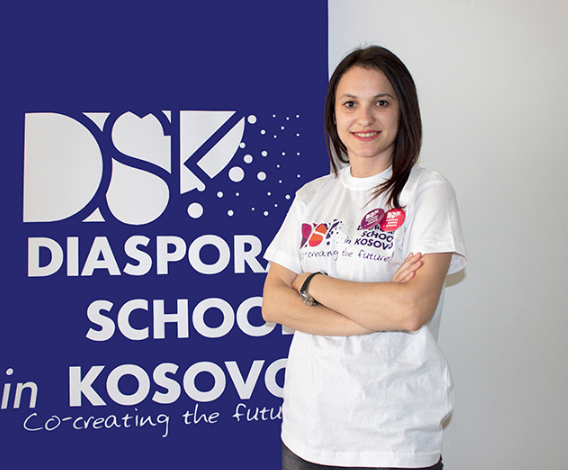 DSK alumni Albanë Hoti shares her experience with the initiative
By: Rrita Hashani June 18, 2018
The Diaspora School in Kosovo is an initiative that aims to bring together young professionals from Kosovo, the western Balkans and Albanian diaspora members from all over the globe. During the five-day event, selected individuals work together to create their own initiatives to promote the growth of Kosovo.
Inspired by the tragic story of her friend, Albanë Hoti and her Diaspora School in Kosovo team launched The Bus initiative.
In 2009, Hoti's friend missed her school bus and her parent's assumed she had been involved in immorality or unchastity. To preserve the family "honor" they married her off immediately. At just 17-years-old, her friend had become a bride.
"The Bus" is a reference to her friend's tragic story and the team set out to raise awareness on such issues as child marriage, gender inequality and the importance of education. With the motto, "Keep the pen, not the ring," the initiative won first place at the Diaspora School of Kosovo with the prize of a €6,000 grant.
We interviewed Albane Hoti about her experience at the Diaspora School in Kosovo:
KD: What was your experience as the leader of The Bus initiative? Was it valuable or not?
AH: The experience as the leader of The Bus initiative was valuable, considering the fact that the project had a social nature, and its impact was designed to change the mindset of the youngsters and the community for early marriages with the main focus to the young girls and raising awareness for the importance to the education.
This was the most different and most creative project I ever led.
KD: What did you gain from the process of the implementation?
AH: During the implementation process, we faced some barriers but we understood what really were we doing. We realized how sensitive is the issue of early marriages, and how hard is to try to have an impact in the community mindset.
KD: Do you think your work has had an impact on the target group and community?
AH: The aim of the initiative was to raise voice for this issue and to raise awareness that early marriage is a problem. So, for as much as we saw the comments from the community, media coverage and the engagement of the local people, we think that we had an impact.
KD: Do you think that these kinds of initiatives should continue in the future?
AH: I think that social issues should be a specific field amongst areas that DSK, or any kind of future organizations, should aim to find solutions for or to help the youngsters to improve their livelihoods in the community.
Check out The Bus in action at their march this past March in this piece by RTK.