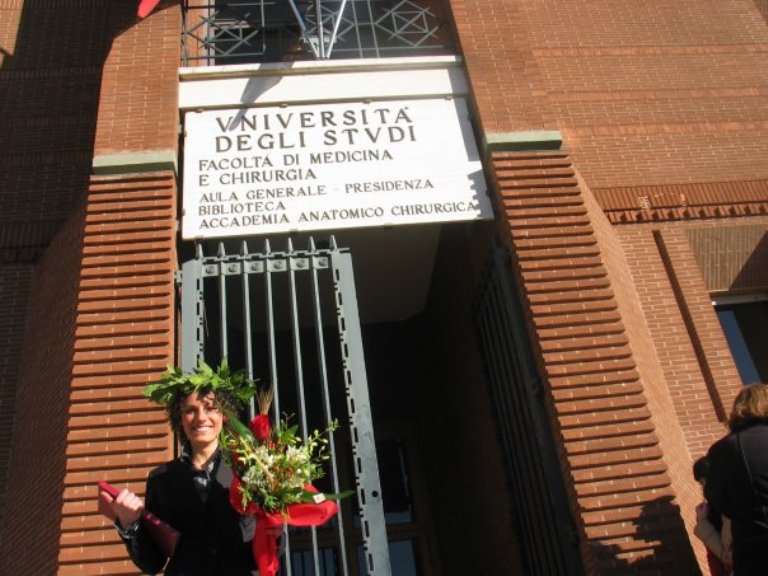 Doctor Pranvera Krasniqi, Building Bridges Between Kosovo and Italy
By: Alketa Spahiu November 1, 2013
Pranvera is a fantastic example of a worthy, yet a humble young Kosovar Albanian woman living in Italy. Her friendly attitude towards everyone, and modesty do not fit the stereotypical character of a doctor as we are used to think. Italians like to call her "Primavera." In fact, she loves the way Italians pronounce her name, but she still insists on being called by her original name, Pranvera [prah-n-vehra], pronounced in her native Albanian language.
Pranvera Krasniqi was born in Kosovo and grew up with an interesting childhood with her family, friends, and books during wartime Kosovo. Taking care of others has always been her passion. She attended high school in Prishtina, and was admitted to the University of Prishtina, School of Medicine before relocating to Italy in 2004 to pursue her medical studies. "It was a realization of my dream, my biggest dream," she stated in an interview with Kosovo Diaspora. 

Pranvera told us that her transfer from Kosovo's public university to the University of Perugia in Italy was realized with the help of her valuable family friend, Don Sandro Sciaboletta. The Krasniqi family met Don Sandro in 1999, when they left Kosovo as refugees. He and the Santa Maria Regina Catholic Community took care of them during those years, providing not only material but a heartfelt support.
Pranvera  was a successful student at the University of Perugia, despite her challenges with the Italian language and the initial difficulties to integration into the Perugia society. Yet, she managed to make her way, and successfully complete her studies. Pranvera's success inspired Don Sandro to establish an initiative, which brought more than 40 Kosovar Albanian students to Italy to study in various disciplines.
"At the beginning, it seemed impossible for my brother (an Economics student) and I to get used to the Italian language and lifestyle. It was our first experience as expatriates. Our experience as refugees was different.When we were refugees, Don Sandro offered us shelter. At least had our family with us, and were taken care of.  When we moved to Perugia to study, we were alone, and needed to make our way into the system and keep up with the pressures of students' life. Though we always knew we had  the support from Don Sandro's and the Santa Maria Regina Community. We were willing to learn and study, and Don Sandro was convinced that giving other students from Kosovo the same opportunity was more than a charity deed; it was a mission."
After graduating, Pranvera was involved in cross-country projects between Kosovo and Italy. One project, dear to her heart, has been implemented by the Santa Maria Regina Community and Don Sandro. The project provided the necessary care and treatment of children in need, who did not have  access to healthcare or or the proper resource to be treated in Kosovo. These children were brought to Italy for treatment. Pranvera said, "Helping these patients, the cutest children you could ever meet,  get treated was the best gift I could receive."
Pranvera now specializes in anesthesiology at the University of Siena. Her commitment to helping Kosovar patients get treated continues, and she feels proud and fulfilled that she is able to give back to her community and birthplace.