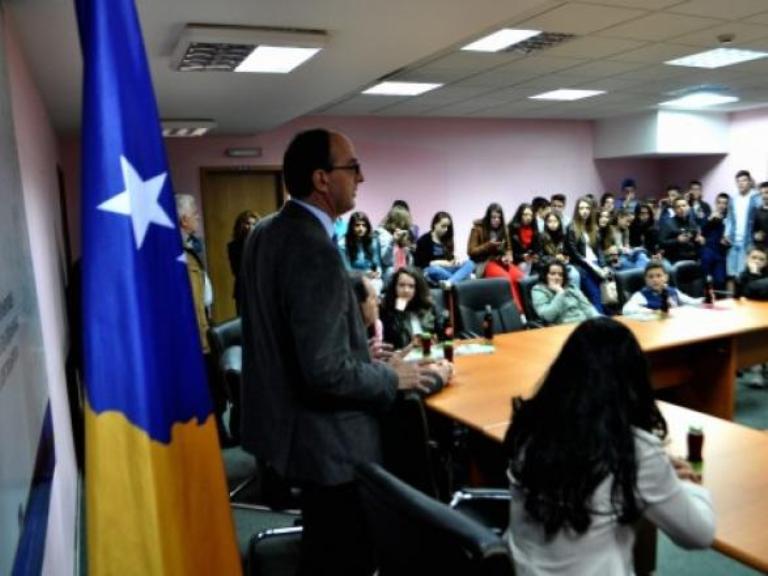 Diaspora students from Austria visit Kosovo and Albania
By: Valon Xoxa April 17, 2014
The Kosovan Minister of Diaspora, Ibrahim Makolli has been the host of 50 Albanian students from Austria whom will be touring around Kosovo and Albania for the upcoming days.
Mr. Makolli has spoken in front of the students over a range of topics concerning the importance of preserving tradition, history and the Albanian language. "Even though you are born and raised abroad, you should not forget your origin, where your roots are, where the Albanian language is spoken. Throughout Kosovo, you will be able to see many statues and memorials of people whom gave everything to preserve this language" were among the points that Mr. Makolli raised on his speech.
The students were also urged to socialize with one and other, to influence their peers on learning the language and preserve the culture. Mr. Makolli was especially grateful to the teachers and academics that are actively engaged in the teaching of the language.  The students have been organized and lead by Osman Ademi,Miradije Berishaj, Milaim Zyrapi and Roza Ndrecaj, all teachers of Albanian language in Austria.
The students will be touring both Kosovo and Albania in seek of a better understanding of their cultural origin.
The original article was posted at Albinfo.ch – Click here to read the original article.