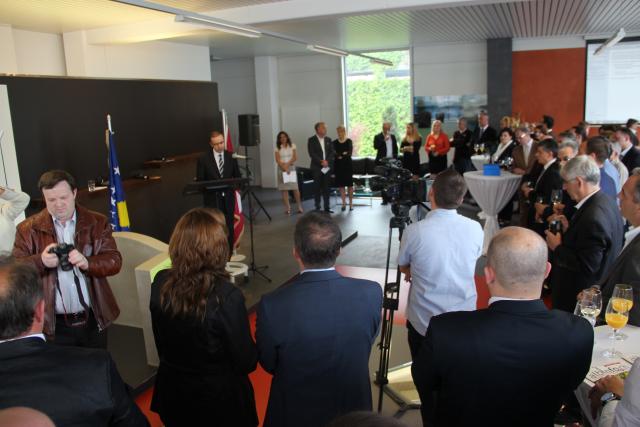 "Diaspora 2014″ award goes to Sara and Fehmi Fetahi
By: Valon Xoxa May 10, 2014
The already annual tradition, ever since 2011 has become an inseparable part of Swiss Kosovar diaspora community, thus having a range of many names and celebrities competing for it. The price is given every 10th of May, starting from 2011. Micheline Calmy Rey (2011), Xherdan Shaqiri (2012) and Ueli Leuenberger (2013) are among the names celebrating this award.
"By choosing the Fetahi couple, we have made sure to include the business sector of our diaspora.  Until today, we have had politicians and a football player; today we have two names with an economic background. Alongside their business success, the Fetahi couple is a symbol of the Albanian integration in Switzerland" were the words of the Kosovar ambassador in Bern, Naim Malaj, a lead member of the price awarding jury.
Other important figures that are involved in the ceremony are the Head of Kosovo Chamber of Commerce, Mr. Safet Gerxhaliu, as well as the Head of Swiss- Kosovo Chamber of Commerce, Mr. Stegan Sarkany.
Mr.Fehmi and Sara Fetahi are also very involved in humanitarian activities. They are well-known to the community for offering generous donations to various projects in Kosovo.
The sculpture offered as a price, is the work of the Berna based artist, Shpetime Kamberi.
The original article was posted at Albinfo.ch Click here to read the original article.