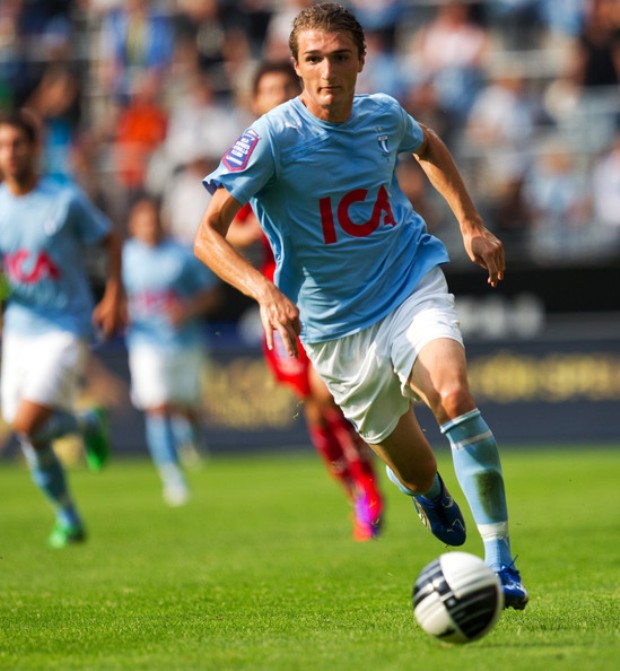 Dardan Rexhepi hoping to win Swedish league
By: Kosovare Mezini February 20, 2014
Numerous Kosovar-Albanians reside in Sweden today. The majority of the Albanian citizens in Sweden immigrated to the country during the 1990s, before the Kosovo war escalated. One of of the families also included that of Dardan Rexhepi.
Being the second youngest out of his four siblings, Dardan Rexhepi, started playing for Eslövs BK and Lunds BK. In 2009, Rexhepi, was spoted and approached by the Swedish giants Malmö FF. After playing for Malmö FF for a year, the Kosovo born striker was promoted to their first team.
September 15th 2010 was a day always to be remebered by Dardan Rexhepi. Malmö FF was playing against its biggest rival Helsingborgs IF in the Skåne Derby as they call it in Sweden. Rexhepi was on Malmö FF's starting eleven for the first time. Rexhepi was grateful for his opportunity to represent the well known Swedish team. He scored one goal and contributed to the team's crucial 2-0 win. In 2010, Malmö FF was announced the Sweden's Champions by a receiving a two point difference from the second placed rivals, Helsingborgs IF.
During his time in Malmö FF, Dardan struggled from a plethora of injuries as well as trying to increase his selfesteem while trying to build his confidence and a relationship with his coaches. Despite these challenges, Rexhepi decided to play for Malmö FF and this was rewarding when he celebrated the team's championship in late November 2010. Two weeks ago, only days after his birthday, the tall striker announced that he was leaving MFF for another team in the Swedish League; this time for Brommapojkarna.
As previously mentioned, Rexhepis's injuries affected his performance in his previous team, but this time Dardan came back strong in the presence of the new team he joined in Sweden. The Kosovar soccer player scored his debut goal in the first game for Brommapojkarna, just 2 weeks after he was signed with the team. The friendly game against Kalmar FF ended 1-1 during their training camp in Cyprus. Bare in mind that the soccer season is plaid spring to fall in Sweden and the new season will kick of at the end of March 2014.
Rexhepi, or D-Rex as some call him, has played a couple of games for Sweden's U21 team and his love for his homecountry Kosovo was announced in several media ocassions. To show his gratidue for his homeland, Dardan dedicated his goal for Helsingborgs IF to all the Albanians around the world. Albanians must be proud with this young talent.