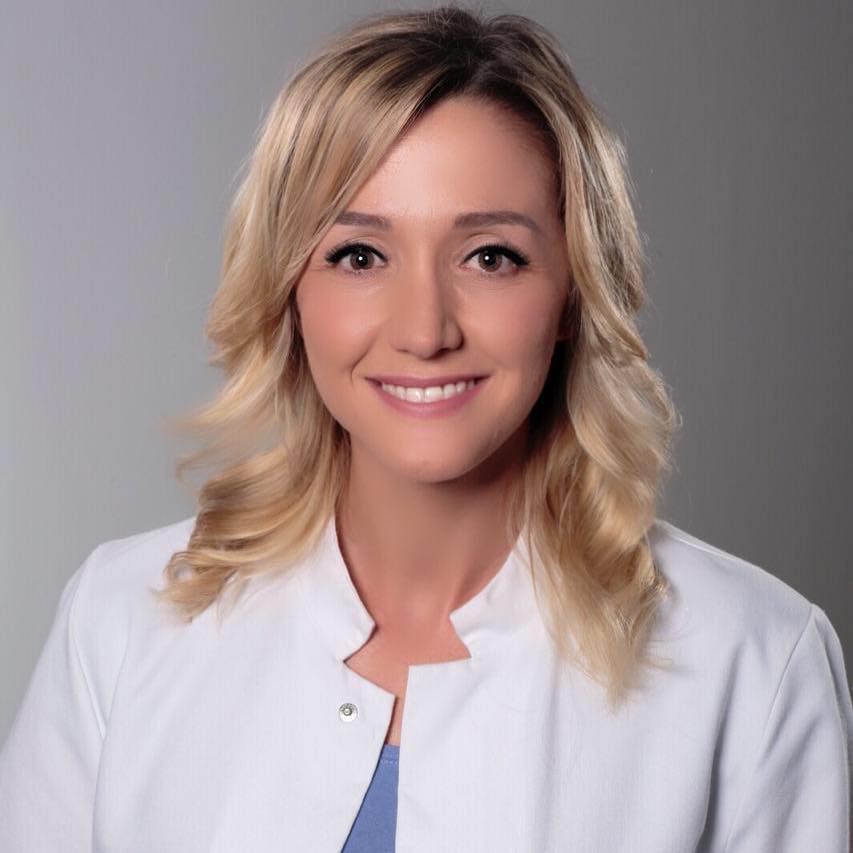 Covid-19: Interview with Dr. Marsela Ceno, Leader of the Association of Albanian Doctors in Germany
By: Kosovo Diaspora August 12, 2020
The Covid-19 pandemic has caused a lot of uncertainty and instability in its management in terms of health, even in the most powerful states, all this due to its extremely rapid and widespread. This rate of spread of infection has taken many developed countries unprepared by not having sufficient capacity in hospitals to treat all infected patients. Given the situation created, we considered it very important to conduct an interview with Mrs. Marsela Ceno who leads the Association of Albanian Doctors in Germany, in order to provide lessons and information on how Germany as a developed country has managed the situation with Covid-19, as well as what we (Kosovo and Albania) should do as countries developing, that we have limited capacity compared to a developed country such as Germany.
KD: Could you tell us about the situation in Germany regarding the Covid-19?
Dr. Marsela Ceno:Well, the situation here in Germany can be said to be under control, of course, the number of those affected is increasing, especially those who return from vacation, but here the health system has shown stability, even in the pursuit of people who are confirmed as affected or in finding persons who have been in contact with the latter. Tracing is a very important process in Germany as well as mass testing, so a map is created of people who are affected, and those who have had contact, then self-isolation is required for 14 days until the onset of symptoms. You should also know that the health system has very large capacities, so even if a significant number of patients go to the family doctor or are in serious health condition and need intensive therapy, the capacities in Germany are very large, so at the moment the situation is under control and the trust that the Germans have in the health system of their state made them experience the situation without the panic that characterized it at the beginning of this pandemic.

KD:As you may know, in Kosovo and Albania, in recent days and weeks there has been an increase in the number of people infected with COVID-19. What do you think are the main reasons for such a thing?

Dr. Marsela Ceno: I think the reasons are several. The pandemic in Europe has reached Italy probably since December, while it became official in March. Even the Balkan countries, here referring to Kosovo, Macedonia and Albania suffered a very heavy lockdown and very large restrictive measures, and this was different from the reality we experienced in Germany. It is true that in Germany most of the public services, schools and kindergartens were closed, but life in a way "continued normally", so there was no curfew. The person who went to work if he was not obliged to do home office, leaving the house was not forbidden, going to the markets also, so there was no closure of life, complete isolation of life and this made the wave of spread of the disease to be not in the highest numbers, but to be continuous, while in our countries both in Albania and in Kosovo perhaps the lockdown caused the postponement of the spread of the disease in the population. Then with regret, I want to point out a phenomenon, which I have actually followed through the constant contact I have with my family in Tirana, but also through my short visit I had in Albania a month ago, and the awareness of the general population, at least until recent weeks has been very small. There have been people who questioned the existence of this virus, and by not really appreciating the importance of the situation they also showed negligence, either in respecting the distance or also wearing the mask, so it is unfortunate, in a way irresponsible or the easy taking of the situation by a large number of the population, caused that by not observing the necessary measures, the spread of the virus increases in the months or year we are observing. Then we must take into account the regulation of movement between countries, so we who came from Germany to Albania, and also the possibility of movement from the Balkans to European countries, certainly increases the risk of spreading the virus. I say the reasons are multifactorial and I believe the time has come for us to reflect on each of these reasons together so that the pandemic passes as easily as possible.

KD: It has been emphasized many times that citizens are neglecting the danger of the virus, maybe this fact needs research…

Dr. Marsela Ceno: I think those coercive measures are in fact against the instinct of every human being because the main principle of every human being is to be free, free in living daily life. So indeed the figures of the countries we had at the border like Italy with a very large number of deaths per day made it a little easier psychologically for people to accept the lockdown when in fact the figures of the persons affected or those who had lost their lives were not dramatic so it was a precaution which people because of the danger they thought might come easily accepted, but seeing that the level of those affected fortunately remained very low, then people believed that all this great measure of restraint, prevention was probably not necessary, so for this reason, some thought it was just a game or it was a lie or it was a conspiracy theory, so they thought it would not find them which the danger had passed. If now they think it is just a fabricated situation, a situation created for certain purposes, of course, the vigilance decreases, they do not start taking care of themselves, they see no reason why to wear the mask, to maintain physical distance. But I have an appeal for all those who doubt the existence of this virus, to see the persons who are hospitalized. Even young ages who may not have concomitant diseases fail to win the battle against this virus, so it is fortunate for the part of the population who are not to see these sights. People should be aware of respecting the minimum distance of 1.5m to each other, to keep the mask especially in environments where physical distance can not be preserved, large gatherings should also be given up whether on holidays, engagements or even at funerals. We are in a pandemic situation and solidarity between us is the only way to emerge victorious in this situation.

KD: How do you assess the work of state institutions in Kosovo and Albania in pandemic management?

Dr. Marsela Ceno: I do not have very accurate first-hand information to say or I am not in a position to judge the work of institutions. I think that both health systems in Albania and Kosovo have done their best, but now it is felt that the situation is slowly getting out of control.
KD:How do you see the contribution of the diaspora in combating the COVID-19 virus pandemic? Is there room to do more? If so, how can such a thing be done?

Dr. Marsela Ceno: I have mentioned in other interviews also that every evil has a good, and the good of the pandemic caused by Covid-19 was the emergence, the advertising of the Albanian diaspora as an extremely powerful instrument, with dignity and personality. I am referring here to the contribution given by a very large number of Albanian doctors working in Germany, who within the initiative of the association since mid-March 2020, so we just realized that the pandemic or virus had arrived and in Germany, and many Albanians, whether from Albania, Kosovo, or Northern Macedonia, remained confined to Germany, and perhaps lacked a family doctor or, due to a lack of knowledge of the language were unable to find out how they should act like. We set up our own support groups for each German Bundestag, made our telephone numbers and e-mail addresses available, and tried to give as little support as possible to all Albanian citizens who needed our advice. In fact, this is a part of the great contribution of all other Albanian doctors everywhere in the world. You may have followed on almost all TV channels or also in the print and radio media, there have been interviews from all Albanian doctors everywhere who have faced this virus in their countries where they live, and tried to share with their countries of origin a way of strategy in the first place how diseases could be identified, secondly what are the preventive measures, to give an appeal to the Ministry of Health in the way of testing patients and providing therapies, what are the alternatives, what has resulted in effective therapy, ie has been a mobilization or is still ongoing extraordinary life of the diaspora, at least in the prism of Albanian doctors who are in the diaspora, and also we have noticed or heard that in recent months the economic aid that has come from Albanians living in the diaspora to their families has been higher than ever. Then we have the philanthropist, for example, the director of the international firm Ecolog, who has donated free tests for COVID, whether in Kosovo, Northern Macedonia, as well as in Albania, so it is a mobilization and an extraordinary commitment. So I can not say at the moment what there is room for improvement, I have the impression that each of us who is in exile either individually or even organized, we have managed to give the maximum of what we have had the opportunity.
KD:It has often been pointed out by infectologists that in case of an increase in the number of infected, there may be a shortage of anesthesiologists. In this aspect, how much could the diaspora or the doctors there have contributed?

Dr. Marsela Ceno: Yes, this is a very fair remark because all those patients whose condition worsens and need treatment with intensive therapy, ie integrated, to give them enough and necessary oxygen, which they can no longer realize lungs affected by Covid-19, they all end up in intensive therapy and anesthetists are the ones who mainly give the first treatment. What has been done in Germany and so far has been very successful, has been the mobilization of other medical forces which means all doctors regardless of their field of action, so it does not matter if they are internists or surgeons, you should to be trained so that at the moment the situation becomes such, that anesthetists are no longer enough to provide assistance to these patients, to have the opportunity for doctors of other profiles to come to the service of treating these patients. Many universities in Germany have also invited students who are engaged in the treatment of these patients, certainly not in making the main treatment but in providing assistance, such as assistance to the anesthetist. There have also been people of different profiles who have given their free contribution through hospitals, whether for moving beds from one ward to another. Before turning our eyes to diaspora doctors, it is important for me that the medical and non-medical staff present in our countries be trained in such a way that if the situation reaches such a level that the situation gets out of control, then other staff be prepared to provide first aid. Perhaps what can be thought and that would be very good, is that some of the doctors who are in the diaspora come and give their contribution in Kosovo or Albania, but we hope that this point does not reach, and also probably would be a very good alternative for the respective countries then come in contact with countries such as Germany that have very large capacities in intensive care, that cases in which are difficult that can not be treated to the end in Kosovo or Albania then to be sent by special transport and treated in Germany. Germany provided such assistance to France, it also received some of the patients who were in very bad condition from Italy, but these are agreements that must be concluded at the state level between these two countries.

KD: What would you suggest to prevent the spread of the virus in Kosovo and Albania, based on the experience of the country where you live?

Dr. Marsela Ceno: Then I refer to the experience as well as reality or actuality in Germany. Starting from the individual behavior of each of us, i.e. maintaining social distance and also wearing a mask in all those environments where maintaining distance is not possible, i.e. in the supermarket, post office, or restaurants which are not well ventilated. I must also emphasize that wearing a mask is something that has two medals of its own, i.e. if textile masks are used they should be washed occasionally if disposable ones are used they should not be worn for days, but even after 4 hours of use should be changed, because in recent days there are announcements which talk about the complications caused by wearing the disposable mask for a long time. They make up a very favorable terrain through the moisture and warmth that comes from our breath and the placement of fungi for causing inflammatory lung diseases, which lungs are just as at risk as pneumonia caused by Covid-19, so I take the chance in this interview to emphasize this appeal, i.e. textile masks should be washed regularly and those that are disposable should not be used for days, weeks or even months, but should be changed after 4 full hours of use. I also want to appeal to all people, to give up the holiday, the big family gatherings, no matter how great the reason to be happy or even sad. We are in a time of pandemics and therefore we must show solidarity, not only to protect ourselves but also to protect others, especially the ages who are most at risk of this virus are people over the age of 55 or 60, people who are polymorbid, ie suffering from diseases such as diabetes or hypertension, or persons who have other systemic diseases of the immune system. I also want to urge people who feel they may have signs of COVID, cough, or fever to isolate themselves for 14 days and see a doctor only if their condition worsens.