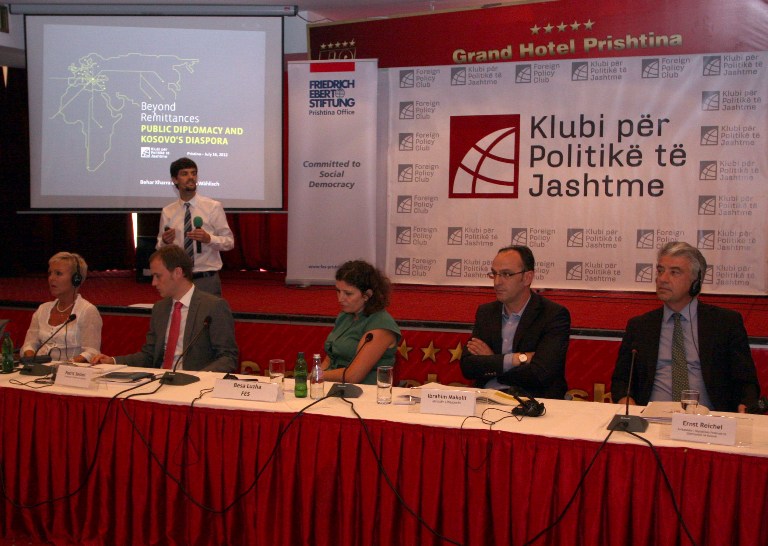 Columbia University Alumni: Continues Efforts to Promote Kosovo, His Homeland
By: Kosovo Diaspora August 28, 2012
The article was taken from the website of School of International and Public Affairs at Columbia University.
Behar Xharra MIA '12 presents a recent paper on public diplomacy and image building for Kosovo. Seated are (from left): Anne Meskanen, Chargée d'Affaires of the Finnish Embassy in Kosovo; Petrit Selimi, Kosovo's Deputy Minister of Foreign Affairs and Public Diplomacy; Besa Luzha, Executive Director of Friedrich-Ebert-Stiftung (a Gerrman foundation); Ibrahim Makolli, Kosovo's Minister of Diaspora; and Dr. Ernst Reichel, Ambassador of Germany to Kosovo. Photograph: Alban Bujari / Koha Ditore newspaper.
Having declared independence in February 2008, Kosovo is now recognized as an independent nation by more than 90 UN members, including the United States and many European Union nations. Last month Behar Xharra MIA'12 and Martin Wählisch, a former visiting scholar at the Harriman Instititute, presented in Pristina the results of an eight-month study on the role of diaspora in public diplomacy and image building for the nation.
The study "Beyond Remittances: Public Diplomacy and Kosovo's Diaspora" is a part of a long-term project known as Branding Kosovo. Xharra had previously discussed some of the findings with a panel of experts he convened at SIPA in February 2012. That panel included Kosovar public officials, scholars, diaspora leaders and activists, media experts, and business sector representatives from New York and Washington.
All told, Xharra says, the study aims to highlight the role of Kosovo's diaspora as a social and diplomatic capital, and motivate further creative thinking about the major advantages of a stronger diaspora component to Kosovo's public diplomacy.
The authors argue that the role of Kosovo's diaspora is at a critical point: They say Kosovars abroad are primarily perceived as providers of remittances and investments in the country, but are also beginning to be acknowledged as a catalyst for international links and a means of facilitating foreign trade. The study gives insights into the status quo, challenges, and opportunities for engaging diaspora members in enhancing the country's image, which could ultimately aid the country's diplomatic and economic development.
The July presentation by Xharra and Wählisch to members of the Kosovo government and foreign ambassadors aired live on national television and received coverage in print and electronic media. "The presentation was quite well received, and the impact of the study could be noticed right away," Xharra said. "Minister of Diaspora Ibrahim Makolli said the members of the diaspora are the best ambassadors of the country. Now we can see a gradual change of the language towards diaspora, which is a great step forward."
A previous study by Xharran and Wählisch, "Public Diplomacy of Kosovo: Status Quo, Challenges and Options," was first published in October 2010. Xharra and Wählisch have also initiated an internet project, kosovodiaspora.org, to promote the achievements of Kosovo's diaspora and build the nation's image abroad.
"Beyond Remittances: Public Diplomacy and Kosovo's Diaspora" ›