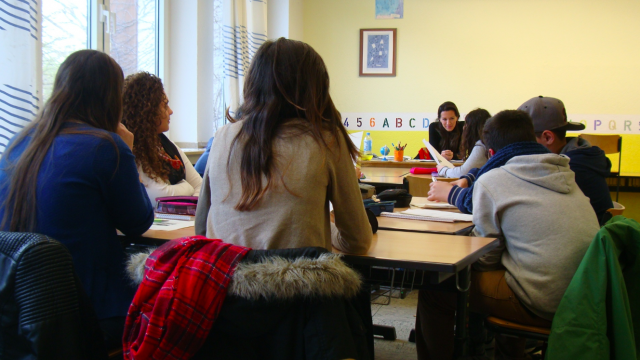 City of Bonn and Learning Albanian Language
By: Valon Xoxa April 2, 2014
Alongside the schools of Rungsdorf and Tannenbusch, there is another school that has recently started implementing additional classes of learning Albanian language.
The program is implemented on the after school teaching style. Pupils like Doreart Perzhaku, after finishing their regular studies, continue to their other school where Albanian language course is offered. Mimoza Mehana, the teacher of a group of 20 pupils starts the day off by reading some stories in Albanian and asks them to write down unknown words, this way, the pupils are active listeners.
"Communication in the mother tongue is one of the main goals of the course" says Mrs. Mehana. "The pupils are of varying age and come from different schools, some of them come from mixed marriages thus the level of Albanian varies from pupil to pupil".
Mrs. Mehana is currently furthering her own studies in Germanic languages , a descendant of a family of teachers where her father Fevzi Mehana is considered an important contributor to Albanian learning in Germany (ever since 1979). Similarly, her mother Xhyzdija has been a teacher of Albanian language for quite some time now.
Each of the parents, bringing their children to their Albanian classes, talk with great admiration for the work being done there. Some of them remember their past teachers and many express joy that their children have the opportunity to learn their mother-tongue.
While the total number of Albanians in Bonn is unknown, the Albanian course here has been operating with great success. The opportunities that the municipality of Bonn gives to emigrants are stellar and in turn, such a commitment contributes to the integration of immigrants within the general culture of the city while keeping their cultural heritage.
The original article was posted at Albinfo.ch – Click here to read the original article.