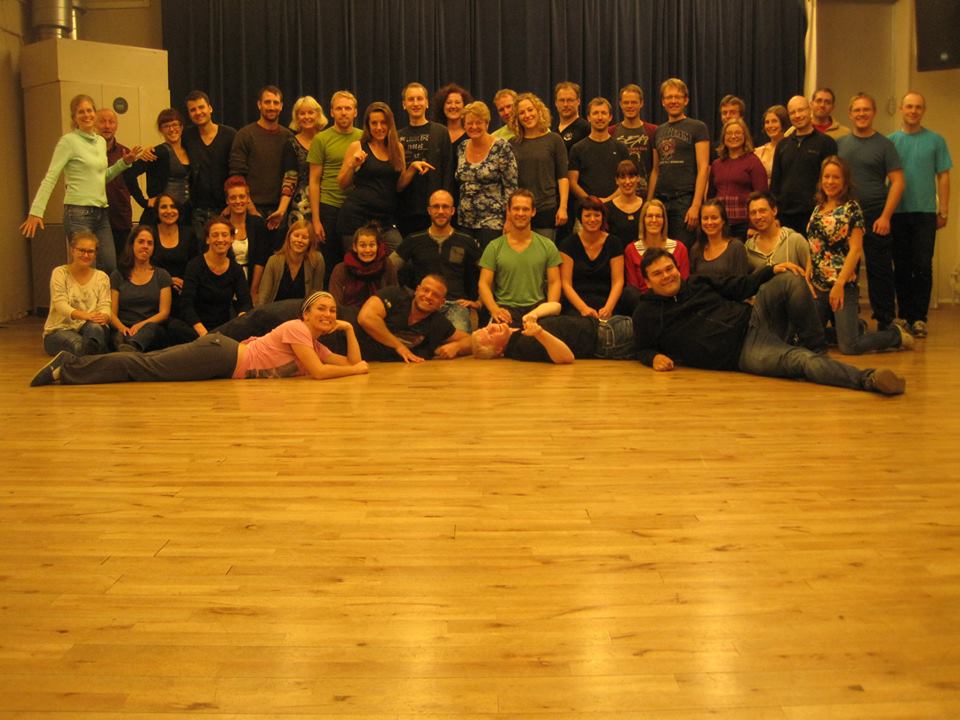 Changing the world with passion for dance
By: Albana Rama April 14, 2014
The art of dance brings joy and connects people on daily basis through its rhythmic movements and expressions. Ardena Gojani, Kosovo's own dancing queen, is enthusiastic to change the world through her passion for dance. She has now also taught and studied dance in several countries as well as runs her own successful studio, Argo dance & fitness in Norway.
This inspiring story of the talented dancer takes us back to 1999 when she immigrated to the United States, with hopes to live the American dream. While she was a student in high school, Ardena started working as an active volunteer for the International Book Project (IBP), a non-profit organization. "I raised over $100,000 dollars to ship over 15,000 books to Pristina, 5,000 to Gjakova and thousands more to Albania and Macedonia" states the talented dancer.
The ambitious Kosovar dancer continued her education in college but never stopped dancing. Ardena balanced her studies with her passion for dance. She received her bachelor degree in Leadership Development and Psychology at the University of Kentucky. At the same time she was dancing professionally at Arthur Murray, a prestigious ballroom school in Kentucky. Ardena then decided to further explore the art of dance as well as her dance abilities and thus attended the Healing Arts Academy School, where she received the National Academy of Sports Medicine diploma.
Ardena told Kosovo Diaspora that: "I began ballroom dancing at the age of six for Art Design (Jeton Vorfri) in Gjakova and have never stopped"
Ardena got married and moved to Norway where her husband lives. In Norway, she started her master's degree at the University of Life and Science in International Development. Ardena also started teaching dancing in two different universities and dance clubs. In the summer of 2013 the talented dancer went abroad to study in Tanzania. The time in Tanzania was an eye opening experience for Ardena as she realized that she was meant to change the world through dance. Upon her return to Norway she decided to open her own studio, Argo Dance & Fitness were she put all her energy and love into training and teaching dance.
Ardena says: "Every country I lived in, worked or studied, I used dancing as a way to integrate myself in a new society. I danced salsa when I lived in Costa Rica, traditional Georgian dancing in the Republic of Georgia, swing in Norway and African tribal dancing in Tanzania. I have always believed that dancing is a basic human need and we should all have the opportunity to do it. When we dance no matter the age, gender, ethnicity, and religion, we all smile and feel joy through the common universal language of the art of body movement"
Today Ardena has several ideas and projects she wants to accomplish. She is currently organizing an action research project in Norway in order to teach partner dancing to immigrants along with the Norwegian citizens. This project will raise awareness on how the art of dance can change perceptions in terms of integration into a new culture says Ardena in the interview. The experience of her journey has proved her the positive effects of partner dancing, such as communication skills, confidence, social skills and teamwork abilities. This has led to the idea of opening her own non-profit organization where she wants to implement programs for partner dancing on an international. Ardena indicates that "Partner dancing does not only help improve the aforementioned skills but also helps break the social barriers and gender inequalities worldwide".
When asked about how she sees the art and culture scene in Kosovo, Ardena says that: "Kosovo´s art and culture scene has proceeded forward quickly and in a positive way. As far as the dance scene, there are many who have begun their own dance schools and have weekly dance socials out in pubs in Prishtina, however this is mostly young singles. While partner dancing is growing, specifically salsa and bachata, it is not common to see women or men in relationships dance with others outside of the relationship, In fact many who began dancing for Art Design or other partner dance schools in Kosovo, by the time women and men find stabilized relationship's they often quite dancing. However, with generations to come this mentality will change and partner dancing will become a success for the future of Kosovo. "
The Kosovar dancer expresses the importance of maintaining the traditional dances in Kosovo, while expanding and exploring other different cultures of dancing. Ardena believes that schools should make it mandatory to learn the traditional dances from an early age and from there she hopes that they also start implementing partner dances such as tango or swing, among many other genres.
"The joy of communicating through the common language of movement is powerful and it will help unite us like no other activity, therefore I encourage all to dance and let it be the therapy for your mind, body and soul"