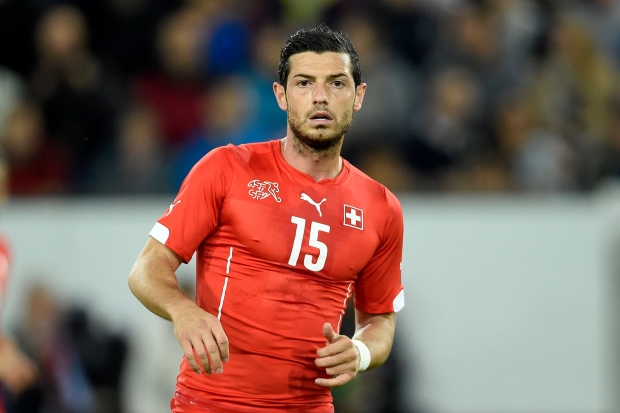 Blerim Xhemajli (Dzemaili) picks Tetova as his post-World Cup vacation place
By: Valon Xoxa July 6, 2014
After his successful debut at the Brazil World Cup, Blerim Xhemajli (Dzemaili), an ethnic Albanian, decided to come back to his birthplace, Tetova, Macedonia. Xhemajli and his fellow Swiss players are still considered heroes from the crowds in Switzerland, Kosovo, Albania and Macedonia. His last minute attempt to bring back Switzerland into the game against Argentina caught everyone in awe, however, luck was not on his side and the Argentinians went through.
Blerim Xhemajli took the time to answer a couple of questions for "Lajm" magazine based in Skopje, Macedonia. He shared some thoughts on World Cup predictions and his affection for the Swiss supporters.
Blerim Xhemalji spoke of being extremely grateful to his fans and the Swiss national team supporters. He does, however, regret not scoring in the last minutes against Argentina and claims that it was pure luck that his leg hit the ball accidentally the second time around. His initial predictions and best bets were on Belgium as the World Cup winner. Taking into consideration that Xhemajli and his team took on Argentina until the last minute, his observation says it all: "We played against them, and honestly, they do not seem to be of a world champion material.
As tough as that US loss was, let's not forget that Blerim Džemaili is the saddest man in the world today. pic.twitter.com/UrRDQrWL9E

— Luke Bailey (@imbadatlife) July 2, 2014
"@SomosInvictos: Una jugada que difícilmente olvidará la afición suiza. Blerim Džemaili la tuvo. http://t.co/lr9AU0VPoa"@pineda15_

— Cristian Martine'Z (@gobabonito) July 2, 2014
Xhemajli scored one of the two Swiss goals in their 2:5 loss against France in the group stage. Xhemajli played alongside four other Swiss players of Albanian origin including Xherdan Shaqiri, Granit Xhaka, Valon Behrami (all born in Kosovo) and Admir Mehmedi (bron in Macedonia).